The forerunner of today's Lincoln Library, Springfield's municipal library, was the Springfield Library Association, a private library supported by membership dues and donation. (Lincoln Library, Springfield's public library, should not be confused with the state-operated Abraham Lincoln Presidential Library.)
But even its creation, taking place as it did shortly after the Civil War, was roiled by a racial dispute.
The initial push for a library began with a meeting of the city's "young men" in November 1865, but the idea had broader appeal, and the Springfield Library Association was formed later that month.
"The establishment of a public library in Springfield will exert an influence for good which will be felt in every walk and rank of life throughout the entire city," the Illinois State Journal wrote in December 1865.
By Jan. 25, 1866, library association funds amounted to $4,200. However, controversy boiled up in the columns of both the State Journal and its competitor, the Illinois State Register, a few days later.
The Register started the dispute by attacking plans to bring the famous black activist Frederick Douglass to Springfield for a speech. Proceeds were to benefit the library.
Partisan spin
The idea put a radical Republican spin on the infant library organization, the Democratic-aligned Register charged. But the editors revealed their real objection in an article Feb. 12.
"The invitation of this negro is a slander upon the white talent of this country," the newspaper wrote. "We have no objection to Fred. Douglass at a negro minstrel concert, a circus or an abolition stump meeting. We object to the degradation consequent upon the idea that the intellect of the white man needs the aid of the negro to brighten it."
The sponsors of Douglass' speech retorted that they, not the library association, had engaged Douglass; they simply had offered the proceeds to the library.
"The motive of the gentlemen was of pure public spirit," the Journal said in their defense. (In the end, Douglass' appearance was cancelled when a railroad bridge washed out and he couldn't get to Springfield on time.)
The controversy cost the library association some donations, although when Virgil Hickox withdrew his promised $50, three black Springfieldians pledged to replace the money. The library board quickly amended its bylaws to promise it would be nonpartisan in all things.
1,300 books
Samuel Willard, an educator, former physician and pre-war abolitionist, was named librarian on Feb. 1, 1867, when the library opened to subscribers. Its 1,300 volumes were available from 2 to 5 p.m. Mondays, Wednesdays and Saturdays and 7 to 9 p.m. Wednesdays and Saturdays from two second-floor rooms in the 400 block of East Washington Street.
Willard signed regular newspaper advertisements seeking stockholders, subscribers ($50 lifetime, $5 annually) and book donations. A book could be checked out for two weeks; overdue fines were 2 cents per day.
The library moved in 1870 to the 600 block of East Monroe Street, after the first floor on Washington Street was rented to a saloon. "Our lady patrons at once began to desert us," the Rev. F.H. Wines, one of the library's founders, said in 1872.
Willard remained librarian even after being named Springfield school superintendent in August 1869, but he resigned both posts a year later to begin teaching in Chicago.
Wines credited the library's early success mainly to Willard.
"During his term of office, not a single book was lost or mislaid," Wines said, "and his zeal for the cause was so great that he used his own salary to purchase books … preferring himself to suffer rather than the library should suffer for want of funds."
The library became part of Springfield city government — and therefore tax-supported — in 1886. See below for other important dates.
Librarians
Samuel Willard (1866-70)
E. Gertrude Seaman (1870-77)
Hannah Lamb Kimball (1877-87)
James P. Bryce (1887-1904)
Henry Remann (1904-20)
Martha Wilson (1920-40)
Elizabeth Conover (1940-45)
Grace Gilman (1945-67)
Robert Wagenknecht (1967-81); title changed to "library director"
Carl Volkmann (1981-93)
Nancy Huntley (1993-2017)
Library locations
*Springfield Library Association (library opens, Feb. 1, 1867)
— 1867: 400 block of East Washington Street
— 1870: 600 block of East Monroe Street
— 1871: Northeast corner of Fifth and Monroe streets
*Springfield Public Library (city council approves ordinance, Feb. 1, 1886)
— 1886: YMCA building, Fifth Street and Capitol Avenue
— 1894: City hall, Seventh and Monroe streets
*Lincoln Library
— June 7, 1904: Carnegie library building dedicated at Seventh Street and Capitol Avenue (at Andrew Carnegie's suggestion, library renamed to honor Abraham Lincoln)
— 1974: Moved temporarily to former J.C. Penney, 522 E. Adams St., while new building constructed
— Feb. 21, 1977: Current library dedicated
More information: Lincoln Library has a synopsis of its history on its website. See also Lincoln Library Carnegie building, this index.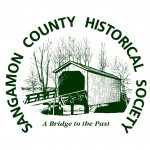 Original content copyright Sangamon County Historical Society. You are free to republish this content as long as credit is given to the Society.