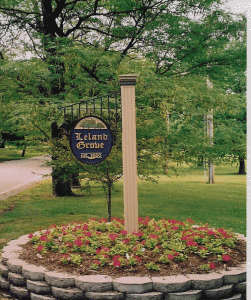 Founded: The city of Leland Grove was formed in response to a plague of potholes.
Subdivision development took off in the area, on the southwest side of the city of Springfield, after World War II. But it wasn't an easy sell.
When the east circle of Fox Meadows – a former hog pasture – was developed, "A sign showing the lot layout … was erected when Old Chatham Road was passable in 1949," according to a history of Leland Grove written by Carrie Jane Schlitt in 1987. "Bill Adams would stand in front of the sign and try to stop people to sell them the idea of moving 'way out here.'"
A better road system was an obvious necessity. Residents of the area had talked to the city of Springfield about annexing, but it would have cost the city too much "just to fix the streets for a few wealthy people on the outskirts of town," Schlitt wrote.
To form their own municipal government, area residents had to overcome a state law that did not allow a village to be formed next to a city. Someone realized, however, that the law  said nothing about having two cities next to each other. So Leland Grove was incorporated as a city in 1950. The first mayor was Charles Lanphier.
The city council promptly imposed a wheel tax to raise money "for the purpose of getting rid of the potholes that were so prevalent on all streets. Before long, one could drive the streets without fear of losing a wheel," Schlitt reported.
Name: Leland Grove is believed to be named for a grove of oaks on or near the old Horace Leland farm, "though the connection seems to exist more in legend than in fact," Schlitt reported, adding that longtime residents remembered no grove bearing the name. However, part of the new city had once belonged to Horace Leland, who owned the Leland Hotel in Springfield in the 19th century, and the Leland family spent winters in a brick farmhouse on Willemore Avenue.
Col. Noble Wiggins, Leland's partner, opened the Oak Knolls subdivision, and Jerome Leland, Horace's nephew, owned 300 acres of his own, which became Leland Knolls. Both areas form parts of Leland Grove.
A referendum to annex Leland Grove to Springfield failed by a 3-1 margin in 1957.
Today: Leland Grove, generally bounded by Springfield's Laurel Street, Outer Park Drive, Park Avenue and Chatham Road, had 1,503 residents in 2010.
More information: See Carrie Jane Schlitt's 1987 history of Leland Grove in the Sangamon Valley Collection at Lincoln Library.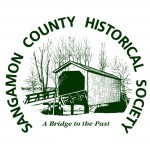 Original content copyright Sangamon County Historical Society. You are free to republish this content as long as credit is given to the Society. Learn how to support the Society.