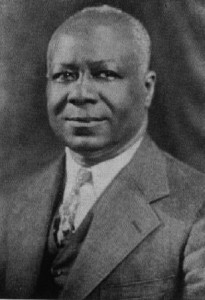 Acclaimed ragtime composer Artie Matthews apparently got his start as a musician in the bars and bordellos of Springfield's old Levee district.
After composing such ragtime classics as Weary Blues — later recorded by, among others, Louis Armstrong, King Oliver and Jelly Roll Morton —  Matthews (1888-1958) turned to studying, performing and teaching classical, religious and choral music. He and his wife, Anna, also a musician, eventually opened the Cosmopolitan School of Music in Cincinnati, Ohio.
"This became the first conservatory of its kind in the country, perhaps the world, being owned by African Americans yet focusing on all forms of music, encouraging young black performers to embrace more than just ragtime and blues," wrote "Perfessor" Bill Edwards in a well-researched profile of Matthews.
Matthews was born in northern Illinois but grew up in Springfield. His father, coal miner Samuel Matthews, died when his son was about 7 years old. His mother, Mary, reportedly was her son's original music teacher.
A YouTube version of Weary Blues, apparently from a piano roll.
Matthews was first exposed to ragtime piano music in the early 1900s, although his talents went beyond piano, according to The Biographical Dictionary of Afro-American and African Musicians (1982), which summarized Matthews' musical beginnings in Springfield:
About 1905 he began playing rag piano, learning it from Banty Morgan and Art Dunningham, who played in local brothels and clubs. He also began to play professionally at this time with his string trio on street corners and in local cafes and saloons.
Matthews' mentors remain a mystery. Neither Morgan (whom Edwards describes simply as "a dope addict') nor Dunningham (sometimes reported as "Dillingham")  appears in Springfield newspapers or city directories from the period. They come up only in relation to Matthews' early career, and none of those reports indicate where that information originated.
It seems likely that Matthews himself was the source of their names, as well as of the little now known of his budding musical career in Springfield. (The only two references to him in local newspapers are in lists of children's performances during school Christmas pageants in 1896 and 1898. Young Artie recited "A Letter to Santa Claus" in second grade and, continuing the theme, "A Vision of Santa" in fourth grade.)
Similarly, the Matthews family appears only sporadically in city directories.  In 1904, the 16-year-old Artie still lived with his mother in rented rooms on South 10th Street. His occupation was listed simply as "porter" in 1904, but the 1908 directory calls Matthews a "musician," indicating he may already have been making a living as a performer.
By the time that 1908 directory was published, however, Matthews probably had already moved to St. Louis, where he was hired by ragtime performer and entrepreneur Tom Turpin and began to make a name for himself in ragtime composition and arranging.
Matthews turned to other styles of music beginning in about 1916, eventually relocating to Chicago and then Cincinnati, where he and Anna opened the Cosmopolitan School of Music in 1921. See "Perfessor" Edwards' profile (linked above) for details of Matthews' post-Springfield career, as well as snippets of many of Matthews' ragtime works, especially his masterpiece, the five-part Pastime Rags.
Matra Productions, founded by Art Matthews, Artie Matthews' son and a musician and educator himself, also offers selections from the elder Matthews' compositions.
Edwards summed up Matthews' impact on American music:
(I)t is hard to judge how much of a ripple effect (Matthews) had on black music and musicians in the United States. His legacy now includes the work continued by his son Art Matthews who is also an accomplished traditional and electronic musician and teacher. Still, the Pastime Rags and his arranged rags remain as among the finest works of the Ragtime Era, and rate … as works equal to those of the other three greats, Scott Joplin, Joseph Lamb and James Scott.
Original content copyright Sangamon County Historical Society. You are free to republish this content as long as credit is given to the Society.