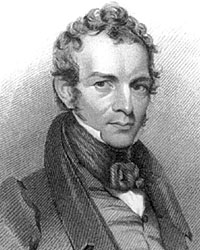 In 1832, poet William Cullen Bryant ("Thanatopsis"), traveled from his home in Massachusetts to visit  his brothers in Jacksonville. He took the occasion also to travel briefly through Sangamon and what now is western Logan County into Tazewell County, where he encountered Illinois militia enlisted for the Black Hawk War. His experiences were recorded in letters to his wife, which ultimately were published in 1884.
Below is a portion of one of those letters that records his impressions of Sangamon County (which in 1832 took in what now is Logan County; Logan, Menard and Dane — now Christian — counties weren't separated from Sangamon until 1839).
Jacksonville, June 19th: I set out, as I wrote you I should do, from this place on Wednesday, the 13th of this month, on a little excursion toward the north. John accompanied me. The first day brought us to Springfield, the capital of Sangamon County, where the land office for this district is kept, and where I was desirous of making some inquiries as to the land in market. Springfield is thirty-five miles east of Jacksonville, situated just on the edge of a large prairie, on ground somewhat more uneven than Jacksonville, but the houses are not so good, a considerable proportion of them being log-cabins, and the whole town having an appearance of dirt and discomfort. The night we spent at a filthy tavern, and the next morning resumed our journey, turning toward the north. The general aspect of Sangamon County is like that of Morgan, except that the prairies are more extensive and more level. We passed over large tracts covered with hazel bushes, among which grew the red lily and the painted cup, a large scarlet flower. We then crossed a region thickly scattered with large trees, principally of black or white oak, at the extremity of which we descended to the bottom-ands of the Sangamon, covered with tall, coarse grass. About seven miles north of Springfield we forded the Sangamon, which rolls its transparent waters through a colonnade of huge button-wood trees and black maples, a variety of the sugar-maple. The immediate edge of the river was muddy, but the bottom was of solid rock, and the water was up to our saddle-skirts. We then mounted to the upland by a ravine, and, proceeding through another tract of scattered oaks, came out again on the open prairie. Having crossed a prairie of seven or eight miles in width, we came to a little patch of strawberries in the grass a little way from the edge of the woodland, where we alighted to gather them. My horse, in attempting to graze, twitched the bridle out of my hand, and, accidentally setting his foot on the rein, became very much frightened. I endeavored to catch him, but could not. He reared and plunged, shook off the saddle-bags which contained my clothing and some other articles, kicked the bags to pieces, and, getting into the wood by which we came, galloped furiously out of sight toward Springfield. I now thought my expedition at an end, and had the comfortable prospect of returning on foot or of adopting the method called "to ride and tie." I picked up the saddle-bags and their contents,  and, giving them to John, I took charge of the unbrellas, which had also fallen off, and walked back for two miles under a hot sun, when I was met by a man riding a horse, which I was very glad to discover was the one that had escaped. A foot-passenger, who was coming on from Springfield, had stopped him after he had galloped about four miles, and had taken advantage of the circumstance to treat himself to a ride. I then went back to the strawberries and finished them.

As it was now three o'clock, we went to a neighboring house to get something to eat for ourselves and our horses. An old scarlet-faced Virginian gave our horses some corn, and his tall prim-looking wife set a table for us with a rasher of bacon, a radish, bread and milk in pewter tumblers. They were Methodists, and appeared to live in a comfortable way, there being two rooms in their house, and in one of them only one bed. A little farther on we forded Salt Creek, a beautiful stream, perfectly and flowing over pebbles and gravel. A small prairie intervenes between this and Sugar Creek, which we also forded, but with better success than two travellers (sic) who came after us, who, attempting to cross it in another place, were obliged to swim their horses, and one of them was thrown into the water. At evening we stopped at a log-cabin on the edge of a prairie, the width of which we were told was fifteen miles, and on which there was not a house. The man had nothing for our horses but "a smart chance of pasture, as he called it, in a little spot of ground enclosed from the prairie, and which appeared, when we saw it the next morning, to be closely grazed to the very roots of the herbage. The dwelling was of the most wretched description. It consisted of but one room, about half of which was taken up with beds and cribs, on one of which lay a man sick with a fever, and on another sprawled two or three children, besides several who were asleep on the floor, and all of whom were brown with dirt. Ina cavernous fireplace blazed a huge fire, built against an enormous backlog reduced to a glowing coal, and before it the hostess and her daughter were busy cooking a supper for several travellers, who were sitting under a kind of piazza or standing about in the yard. As it was a great deal too hot in the house, and a little too cool and damp in the night air, we endeavored to make the balance even by warming ourselves in the house and cooling ourselves out of doors alternately. About ten o'clock the sweaty hostess gave us our supper, consisting of warm cakes, bacon, coffee, and lettuce, with bacon-grease poured over it. About eleven, preparations were made for repose; the dirty children were picked up from the floor, and a feather bed was pulled out of a corner and spread before the great fire for John and myself, but on our intimating that we did not sleep on feathers, we had a place assigned to us near the door, where we stretched ourselves on our saddle-blankets for the night. The rest of the floor was taken up by the other travellers, with the exception of a small passage left for the sick man to get to the door. The floor of the piazza was also occupied with men wrapped in their blankets. The heat of the fire, the stifling atmosphere, the groans and tossings of the sick man, who got up once in fifteen minutes to take medicine or go to the door, the whimperings of the children, and the offensive odors of the place, prevented us from sleeping, and by four o'clock the next morning we had caught and saddled our horses and were on our journey.

We crossed the fifteen-mile prairie, and nearly three miles beyond came to the Mackinaw, a fine, clear stream (watering Tazewell County), which we forded, and about half a mile beyond came to a house where live a Quaker family of the name of Wilson. Here we got a nice breakfast, which we enjoyed with great relish, and some corn for our horses.
 Original content copyright Sangamon County Historical Society. You are free to republish this content as long as credit is given to the Society.