Sharon Tyndale, Illinois secretary of state from 1865 to 1869, was shot to death the morning of April 29, 1871, in what became Springfield's most enduring murder mystery of the 19th century.
Tyndale was walking on Adams Street to the Chicago & Alton railroad station (today's Amtrak station) streets when someone apparently clubbed him to the ground and then shot him behind the right ear with a single-shot Derringer.
Tyndale's wallet, containing $50 for his planned trip to Chicago, was taken, and the first theory was that the attack was a robbery. However, Tyndale's assailant did not take his change purse, containing a few more dollars, or his gold watch, and other speculation revolved around the possibility that the killing was the result of a romantic entanglement or a business or political dispute.
A 1929 Illinois State Journal recap suggested the welter of possible motives hindered the investigation of the shooting.
In looking for motives to account for the killing … the local analysts ran wild. The Tyndales had been prominent in the gay social activities of the capital, and there was gossip, ready made in plenty, to furnish any number of reasons for the murder. …

Failure to solve this mystery may have been due to rainbow chasing of clues furnished by gossip of the period. Numerous persons, old folks tell us, were under suspicion. One doctor, whose name was whispered in connection with the speculation, left town. He was losing all his practice in consequence of the suspicion cast on him.
Local residents and others promised rewards totaling $5,000 for anyone who produced evidence leading to an arrest. However, the crime was never solved, and newspaper stories for decades after referred back to the Tyndale slaying any time a mysterious death took place in the city.
Tyndale, born in Pennsylvania in 1816, was living in Belleville when elected secretary of state. While in office, he was "an earnest advocate, and virtually author" of Illinois' first voter registration law, according to his obituary on findagrave.com (see below for more on that).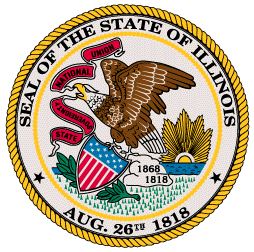 With the end of the Civil War, Tyndale also initiated a redesign of the Illinois state seal. The official state motto is "State Sovereignty — National Union," but Tyndale viewed the word "sovereignty" as emblematic of the idea of state's rights, which Union armies had fought to overcome during the war. As keeper of the seal, he had it re-engraved in 1867 so that the seal emphasized the words "national union, and "sovereignty" was displayed upside-down. The seal has remained basically unchanged since Tyndale's redesign.
Tyndale also was one of the original 15 members of the National Lincoln Monument Association, an ad-hoc group created to build the tomb of Abraham Lincoln in Springfield.
The obituary adds:
Mr. Tyndale was a person of education and varied scientific attainments, of genial manners, courteous address and of gentlemanly and engaging presence, it was supposed he had not a personal enemy in the world.
Following his single term, Tyndale and his second wife, Laura (1837-1901), continued to live in Springfield, where he resumed his career as a civil engineer specializing in railroad work.
His grave apparently is in Belleville's Green Mount Cemetery, although findagrave.com confusingly lists two burial sites, neither of which is correct today. One says Tyndale is buried in Harrison Cemetery, Sangamon County (between Salisbury and Pleasant Plains); the other says the grave is in Harrison Cemetery, St. Clair County.
In fact, the May 3, 1871 State Journal confirms that Tyndale originally was buried in the St. Clair County cemetery. However, that cemetery was later closed, and the bodies of Sharon Tyndale and his first wife, Mary (?-1859), apparently were moved to Green Mount Cemetery, also near Belleville, in 1877.
More information: Springfield newspaper archives; ancestry.com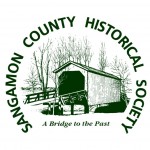 Original content copyright Sangamon County Historical Society. You are free to republish this content as long as credit is given to the Society.