Like Grandview and Southern View, the village of Jerome, which is nearly surrounded by Springfield on the city's south and west sides, was incorporated in 1939 so the village could obtain water from the city of Springfield.
Founded and named: Much of the area that eventually became Jerome originally was farmland owned by Jerome Leland, after whom the village is named. Development began in 1928, when 70 acres were sold to a Kansas City, Mo., development company, which subdivided the land and sold lots from a tent for payments of 50 cents a week.
"In 1938, the residents of the area were confronted with a serious water shortage, as their wells went dry," reported a 65th anniversary booklet compiled by the Jerome Women's Club. The residents "met together in the evenings to discuss the possibility of getting city water. To get the water, the subdivision had to be incorporated and there had to be 150 signers who agreed to pay $1.50 a month for one year."
Jerome, with a population of 425, was officially incorporated on March 18, 1939; on June 1, the village contracted to buy water from the city of Springfield.
Jerome built a municipal building in 1957 and a civic center in 1966. A volunteer police department was created in 1959, and 24-hour police coverage, with a professional force, began in 1975.
The community was one of the hardest-hit neighborhoods when a pair of tornadoes struck the Springfield area the night of March 12, 2006. By 2010, however, officials said Jerome residents and businesses had rebounded strongly.
Today: Jerome, generally north of Wabash Avenue between Springfield's MacArthur Boulevard and Chatham Road,  had a population of 1,656 in 2010.
More information: Village of Jerome 65th Anniversary booklet, Sangamon Valley Collection at Lincoln Library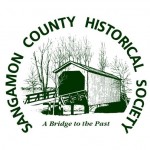 Original content copyright Sangamon County Historical Society. You are free to republish this content as long as credit is given to the Society. Learn how to support the Society.