Harry Loper, a successful white restaurateur, owned one of the few motorcars in Springfield in 1908. So when Sangamon County Sheriff Charles Werner wanted to move two black accused murderers out of the county jail before a white mob stormed the facility, he turned to Loper.
Werner (1853-1937) distracted the crowd with a false fire alarm, and the prisoners — Joe James and George Richardson — quickly slipped into Loper's car. Loper drove them out of jeopardy, and James and Richardson were safely housed in the McLean County Jail.
Members of the mob, estimated to total  5,000 to 10,000 people, quickly learned that Loper had helped the prisoners escape a probable lynching and turned their anger on Loper's Restaurant, 223 S. Fifth St. Pleas by the mayor and the token presence of 10 members of the National Guard — whom Werner wouldn't allow to use their weapons — were unable to restrain the mob, and two shots fired over rioters' heads by Loper himself also had no effect.
Loper's car, parked in front of the building, was set on fire, and rioters broke into the elegant restaurant, stealing everything they could and smashing the rest. Loper escaped through the basement.
Loper (1860-1948) said the next day he had hoped to prevent bloodshed by spiriting James and Richardson out of town.
"I have been through one riot in Cincinnati in '83," he told reporters. "… It was to avoid loss of life that I took these men out of town."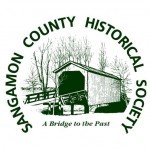 No one was ever convicted of participating in the attack on Loper's, although the body of a white teenager, Louis Johnston, was found in the building after the violence ceased. And Kate Howard, a white rooming-house operator who many witnesses said incited the crowd at Loper's, committed suicide after also being charged with the murder of black barber Scott Burton.
Original content copyright Sangamon County Historical Society. You are free to republish this content as long as credit is given to the Society. Learn how to support the Society.