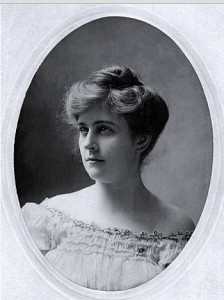 Lora Hieronymus Robie, one-half of the couple who had Frank Lloyd Wright design Chicago's famed Robie House, spent far more time as a Springfield resident than she did in the house named after her and her husband.
Lora Robie (1878-1947) was born in Pekin, but as a child moved to Springfield with her family. Her father, B.R. Hieronymus (1841-1926), was one of the founders and later president of the Illinois National Bank.
Lora Hieronymus met Frederick Robie while she was attending the University of Chicago, and the two married in 1902. The Robies bought property near the University of Chicago in 1907 and commissioned Wright to build their home. Construction began in 1909 and was largely complete by May 1910, when the couple and their two children moved in.
The Robie House is considered one of the great examples of Wright's Prairie School of architecture (which also includes Springfield's Dana-Thomas House). One critic said the Robie House is "for many Americans the finest work of art turned out by any of our architects in our history as a nation. In this house Wright blends the sonorous long lines of the machinelike form with a rich decorative effect that is ages old."
In April 1911, however — less than a year after the Robies moved into their new home — Lora Robie moved out again, and she and the children returned to Springfield. She filed for divorce in 1912, accusing her husband  of infidelity. (Frederick Robie also faced financial problems following the death of his father, for whom the younger Robie had worked. As a result, he was forced to sell the house in December 1911. The Robie House now is owned by the Frank Lloyd Wright Trust and is open for public tours.)
Lora Robie, who had briefly been a teacher in Springfield prior to marrying Frederick, became an instructor of history, English and Latin at Lawrence School. She then taught at Springfield High School, where she eventually was appointed dean of giris.
She resigned in 1925 and opened the Robie Book Store at 406 S. Fifth St. in 1927. After closing the store in 1943, Robie became manager of the book department at Myers Brothers Department Store. She also did book reviews for women's groups and adult education classes and in radio broadcasts.
The Illinois State Journal paid tribute to Lora Robie following her death in January 1947:
Aptly described as a cultural leader, she always gave to those with whom she came in contact something of her own tireless enthusiasm for good living. …

She visualized her beloved books, the many people of the book world she knew so well, and thousands of young minds eager for truth, all of which would live on and on. In this she found a measure of comfort.

Only in the knowledge that the ideals and thoughts of Mrs. Robie do carry on, can we take any solace in the fact of her death. May the memory of her unique personality continue to do the good work which she so well begun when life was hers to spend day by day.
More information: Local newspaper files available through Lincoln Library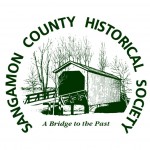 Original content copyright Sangamon County Historical Society. You are free to republish this content as long as credit is given to the Society.