The Park Sherman Company operated in Springfield from the early 1930s, when founder Jacob Sherman bought a plant formerly operated by the Springfield-based Shanklin Manufacturing Co.,  until 1960.
Shanklin Manufacturing, 2725 S. 11th St., had been founded by George Shanklin, who copyrighted a design for a carbide miners' lamp in 1913. He incorporated his company in 1925, but the firm succumbed to the Great Depression in 1930.
After buying out Shanklin, Park Sherman continued to make lamps and other items for the mining industry, including the popular Storm King line of lamps.
However, Park Sherman probably became better known for producing cigarette lighters, desk accessories and a variety of office and novelty items. According to a 2004 presentation to the Sangamon County Historical Society, one of the local newspapers once estimated that most Springfield residents had Park Sherman items in their homes without realizing it.
The company's products were sold throughout the 1930s, 1940s and 1950s. Advertisements often used the catchphrase "Precision Made by Park Sherman, Springfield, Illinois."
In 1960, Park Sherman was sold to the New Jersey firm of Ketcham & McDougall. Because of wage costs and labor problems, the Park Sherman division moved from Springfield to Murfreesboro, Tenn.  Only seven of the 300 workers moved with the company. Jacob Sherman died the following year.
A wide range of Park Sherman memorabilia is available on eBay and similar sites. Below are two examples.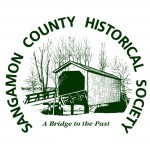 Original content copyright Sangamon County Historical Society. You are free to republish this content as long as credit is given to the Society.