John J.H. Kelly (1851-1907) received the Medal of Honor for his actions during a five-day fight with Indian warriors on the Upper Washita River, Texas, in September 1874.
Kelly was among about 50 soldiers — a combined infantry and cavalry unit– that was escorting a train of supply wagons headed for a camp commanded by Gen. Nelson Miles during the Red River War. The wagon train, called the "Lyman Train" after its commander, Capt. Willys Lyman, was besieged by hundreds of Kiowa and Comanche warriors from Sept. 9 to Sept. 14, 1874.
The Texas State Historical Association outlined the beginning of the siege:
On September 9, (Lyman) had his wagons form a double column with about forty infantrymen flanking either side and the thirteen-man cavalry unit at the front. The Indians …came upon the train as it was crossing the divide between the Canadian and Washita rivers. They began firing at it from long range while a small group ascended the ridge ahead of the wagons; but the cavalry's defensive maneuvers enabled the train to move twelve miles farther south, to almost a mile from the Washita.

About mid-afternoon, as the wagons emerged from a steep ravine, they were suddenly set upon by about seventy mounted warriors, who rushed in with heavy rifle fire. As Lyman hastily formed the vehicles into a protective circle, the Indians came close to overrunning them. At sunset the Indians broke off the attack, allowing Lyman's men to dig protective rifle pits, organize a better defense, and get water from a pool about 400 yards away. The Indians likewise dug in for a prolonged siege.
The siege was lifted after Lyman's command was reinforced. Two soldiers were killed and three wounded.
Kelly, a corporal in the 5th U.S. Infantry, was among six soldiers awarded the Medal of Honor (often wrongly called the Congressional Medal of Honor) for gallantry during the first attack on Sept. 9. Seven more soldiers received the same award for their actions later in the siege. Kelly also served during conflicts with tribes led by Sitting Bull and Chief Joseph, according to his Illinois State Register obituary, published Feb. 8, 1907.
Kelly was discharged from the Army as an ordnance sergeant in 1902. Born in Schuyler County and raised in Christian County, he moved to Springfield following his discharge. He died suddenly in his home on North Third Street on Feb. 7, 1907; the Register's headline was "Indian Fighter Dies in Chair."
Kelly is buried at Oak Ridge Cemetery.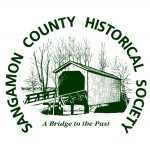 Original content copyright Sangamon County Historical Society. You are free to republish this content as long as credit is given to the Society.