The developers of the Hawthorne Place subdivision were ahead of their time. Its construction, starting in 1902, triggered Springfield's suburban growth and created new ways of living for residents of the city.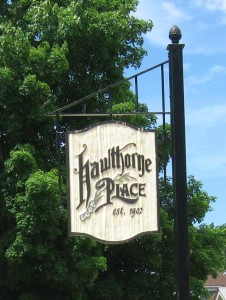 Hawthorne Place, which takes in Whittier, Lowell and Holmes avenues from South Grand Avenue to Laurel Street, was inspired by the Springfield Park District's development of nearby Washington Park in 1900-01. At the time, most land outside the city was still farmland or woods.
The neighborhood's original developers were William H. Conkling, John C. Pierik and Loren Wheeler.  Conkling's father, William J. Conkling, owned the property , which he had purchased 40 years before from Dr. William Wallace (Abraham Lincoln's brother-in-law).  The elder Conkling also financed the development of Hawthorne Place, giving his son, Pierik and Wallace a budget of $39,000 to lay out streets and install improvements. .
Advertisements started appearing in local newspapers, stressing how modern and new Hawthorne Place would be and calling the development "the finest residence property  ever offered in Springfield." The neighborhood also was given a literary theme: Hawthorne Place is named after the author Nathaniel Hawthorne, and the three north-south streets after John Greenleaf Whittier, James Russell Lowell and Oliver Wendell Holmes.
Streets were paved during the summer of 1902, streetcars began a regular route into Hawthorne Place that October, and the first house in the subdivision, owned by Edward Paine, was completed in November. An Illinois State Register article put the construction cost of the home at $3,200; building lots in Hawthorne Place cost $16.50 to $25 per front foot, depending on location.
One of the unwritten rules of Hawthorne Place, however, was that no African American residents were allowed to own property in the neighborhood.  When William Florville Jr. — whose father had been Abraham Lincoln's barber and friend — purchased Paine's property at 1405 Lowell Ave. in 1907,  it created "a small sensation,"  Roberta Senechal de la Roche wrote in In Lincoln's Shadow: The 1908 Race Riot in Springfield, Illinois.
"The developers were outraged when they discovered the transaction, but they had no choice but to buy the property back from Florville, at a substantially higher price," Senechal de la Roche wrote.
Hawthorne Place's large houses were perfect homes for large families. Louis Gietl called the 1500 block of Holmes "Fertility Row" because, at one point, the Stephans at 1512 had seven children, the Caseys at 1508 had nine children, and the Jennings at 1516 had 10 children.
Many early residents noted in the Hawthorne Place Neighborhood Association newsletter remain in the Springfield area today, and many are prominent citizens. The modern neighborhood is full of activities year round, such as an annual chili cook-off and a  luminary display during the Christmas season.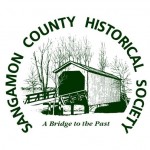 Contributor: Elise Antonacci, Blessed Sacrament School
More information: "Hawthorne Place: The story of Springfield's first planned twentieth-century subdivision," by Edward Russo: Illinois Times, Nov. 24, 1999
Original content copyright Sangamon County Historical Society. You are free to republish this content as long as credit is given to the Society. Learn how to support the Society.