Former president Martin Van Buren visited Springfield between June 16 and 19, 1842, and while there he visited the home of his first cousin, George Brunk, in Cotton Hill Township near Rochester. The house still stands today.
Van Buren, a Democrat who was president from 1837 to 1841, came to Springfield because he recognized it as a strategic political and geographical point in the country and hoped it would help his political comeback. Feeling that the sophisticated Van Buren might find Brunk's accommodations rather crude, his central Illinois hosts turned to Abraham Lincoln, even though Lincoln, a Whig, was a political opponent of Van Buren.
On Thursday, June 16, 1842. Lincoln went with a reception committee, composed largely of Democrats, to Rochester to meet Van Buren. The evening was spent at the home of a Mrs. Doty.
By all accounts, the evening was a success, Van Buren entering into the fun with the practiced cordiality of an experienced candidate and politician. Reminiscence, story, and joke passed round the circle. Lincoln's anecdotes and comments "kept the company convulsed with laughter till the small hours of the night. Mr. Van Buren stayed some days in Springfield, and repeatedly said he never spent so agreeable a night in his life".
That Friday, Lincoln accompanied Van Buren to Springfield in the morning. The Sangamon Guards, commanded by E. D. Baker, met the party east of town, and Mayor David Campbell gave a welcome address at the Statehouse. Van Buren replied and then attended a reception at the building, followed by a party that evening at the American House hotel.
On Saturday, Van Buren's party inspected all the rooms in the Statehouse, and on Sunday, June 19, Van Buren attended the Methodist Church in the morning and the First Presbyterian Church in the evening.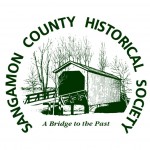 Original content copyright Sangamon County Historical Society. You are free to republish this content as long as credit is given to the Society. Learn how to support the Society.