Prior to European settlement, Rochester Township was one of the most heavily wooded sections of Sangamon County, and as a result, became one of the earliest areas to be settled. The first permanent European resident was probably James McCoy, who built a homesite near today's village of Rochester in 1819.
An early settler, Archibald Sattley, named the area after Rochester, N.Y., the city where Sattley and Harriet Hawley were married while en route to  central Illinois.
"An incident told of Mr. McCoy's pioneer life was the purchase in 1821 or '22 of the first full sack of salt ever sold in Springfield, which he paid for in coon skins, and it is said that it took all the winter for himself and his brother to secure enough skins to pay for it." – Historical Encyclopedia of Illinois, Volume 2 (1912).  
 Rochester was surveyed in 1831, and C.B. Stafford's two-story log cabin became the town's post office and stage station. The town was incorporated in 1869.
More: The Rochester Historical Preservation Society supports the Old Stone House, a reconstructed 1830s home now periodically open for tours next to Rochester Community Park.
"The Tafts of Rochester, Illinois," written by former Illinois Supreme Court Clerk Justin Taft, covers the family's history in the area. Esther Taft also discussed early 20th century life in Rochester, businesses, schools, illnesses and remedies, and the first automobiles in a 1974 interview for the University of Illinois Springfield's oral history project.
The Wikipedia entry on Rochester High School includes a timetable of the high school's development, taken from a 2008 edition of the Rocket, the high school newspaper.
Two area sites, the Brunk Farmstead in Cotton Hill Township and the Joseph Miller House on Buckhart Road, are listed on the National Register of Historic Places. Former President Martin Van Buren stayed at the Brunk home in 1842, during a visit in which he met Abraham Lincoln.
Rochester residents Ray and Pam Bruzan have produced several works on aspects of Rochester history, including a brochure guiding interested visitors to remaining structures that were documented in a 1918 collection, the Orange Judd Farmer Pictorial Community Album of Rochester Township and Village.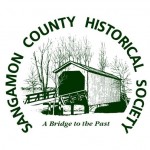 Today: Rochester, population 3,689 in 2010, has become a prosperous suburb of Springfield. Rochester is 7.5 miles east of downtown Springfield on Illinois 29.
Original content copyright Sangamon County Historical Society. You are free to republish this content as long as credit is given to the Society. Learn how to support the Society.