Armbruster Manufacturing Co., which bills itself as "America's oldest tent maker," got its start when Rudolph Armbruster (1852-1922) opened an upholstery business on South Fifth Street in 1875.
In its early years, the company also sold "foot rests, folding rockers, chairs and trimmings," according to an 1880 newspaper ad, and offered to clean mattresses. It also promised "a nice line of baby carriages." By 1895, however, newspaper articles routinely referred to R.H. Armbruster as a tent and awning manufacturer.
Armbruster manufactured thousands of military tents during World War I and II, and the company's web site reports it still owns a few original 1942-dated shelter halves.
U.S. Army Lt. John Stelle Jr., the son of  John H. Stelle, Illinois governor from 1940 to 1941, was one of the U.S. soldiers sheltered by an Armbruster tent.
"It really gave me a spark of happiness," Stelle wrote from North Africa in April 1943, the Illinois State Register reported. "I tell all the fellows in my tent, 'Don't worry, Armbruster tents cover the world.'"
In addition to a variety of modern tents, awnings and custom tents, Armbruster continues to manufacture vintage-style tents, which are often used by re-enactors and on movie sets, at its plant at 8600 Old Route 66 South. As of 2014, B.H. Armbruster was the fourth generation of the family to be company president.
Sources: Illinois State Journal and Illinois State Register files; State Journal-Register section on 100-year businesses, published Jan. 25, 2014; Armbruster Manufacturing Co. web site (linked above).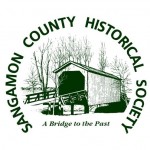 Original content copyright Sangamon County Historical Society. You are free to reprint this content as long as credit is given to the Society.