The Baker Manufacturing Company, founded in Springfield in 1908, was a predecessor of Springfield's Allis-Chalmers (later Fiatallis) construction equipment plant.
Baker Manufacturing produced a wide range of road construction and maintenance products, in its later years specializing in crawler tractor attachments, primarily for Allis-Chalmers. Allis-Chalmers acquired the company in 1955. Baker Manufacturing's plant was at 503 Stanford Ave., on the north end of the A-C/Fiatallis campus.
Baker's major innovations included creation of the first front-mounted fixed backfill blade for wheel tractors, in 1918; the first bulldozer for crawler tractors in 1924; and the first engine frame-mounted bulldozer cylinders, in 1946, on the Allis-Chalmers HD19 bulldozer. It also sold snowplows to city and county road authorities.
One of Baker Manufacturing's earlier products was the Baker Dustless Pick-up Sweeper, a horse-drawn street sweeper that in one pass sprinkled water on a street (to keep down dust), swept dirt into the gutter and then piled the gutter accumulations into convenient piles. Promotional materials touted the advantages of the Pick-up Sweeper: "It is clear how relatively enormous is the saving in time, labor and equipment with one or more machines of such capabilities, especially in cities of any size."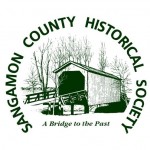 Original content copyright Sangamon County Historical Society. You are free to republish this content as long as credit is given to the Society.