St. Luke's Episcopal Church, 1218 South Grand Ave. E., began in 1876 under the name of Lincoln Memorial Chapel, an Episcopal mission directed at former slaves.
The mission was short-lived, but local Episcopal bishops Revs. George Seymour and Edward Osborne continued their efforts to reach out to African Americans, creating a new mission church, St. Augustine's (named after St. Augustine of Hippo, a North African saint), in 1891.
"Involved in the early years were a number of prominent African-American families, led by Augustus Harmon, who had come to Springfield from Cairo," a St. Luke's history reports. By 1908, "St. Augustine's had grown to a sizable number."
The 1908 Springfield Race Riot, however, proved to be a special setback to the fledgling church, whose first black minister, the Haitian-born Rev. Charles E. F. Boisson, had been ordained by Osborne only a month before the riot took place.
"This event was so disturbing to Fr. Boisson that he quickly left Springfield," the history says. "Bishop Osborne noted that Fr. Boisson left 'before his papers of transfer had arrived from Haiti.'"
At the time, St. Augustine's had been holding most of its services in a house on South Grand Avenue. Meanwhile, the present St. Luke's building, erected in 1901, was mostly empty, so Osborne turned it over to St. Augustine's in 1908, on the condition that the church operate under the name of St. Luke's.
Although St. Luke's congregation has had its ups and downs over the last century-plus, the church's history — written in 1999 and updated in 2009 — suggests the church was on a more even keel as the 2010s began.
Attendance at St. Luke's has grown. Where fifteen to twenty was the norm for a Sunday in 1986, the average attendance on a weekend grew from the low 30's in the early 1990's to 39 in 1997 and 50 in 1998. Average attendance in 2008 was nearly 70. St. Luke's is an ethnically and economically diverse congregation, with a wide age range in its membership.
The Rev. Shawn Denney had been vicar for nearly 15 years in late 2013.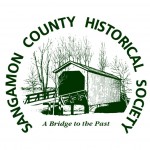 Original content copyright Sangamon County Historical Society. You are free to republish this content as long as credit is given to the Society.