White students in the January 1907 graduating class at Springfield High School objected when it appeared that two black students, both girls, were in line to become the class's valedictorian and salutatorian.
In a suspiciously sudden reversal of fortune, however, the grades of a white boy, H. Richardson Helmle, improved during the final term, and those of the formerly top-ranked black girl, Josephine Snowden, slipped. Helmle became valedictorian with a gradepoint average of 92.46, and Snowden, with an even 92.0 GPA, was named salutatorian. (The other black girl in contention, Hazel Bates, fell to fifth in the class of 30, with a GPA of 90.8.)
The competition was followed closely by the Illinois State Register, which reported Helmle's achievement on Jan. 29, 1907:
For some time there was considerable rivalry among the various members of the class for the first honors. Two colored girls were mentioned in a semi-official source some time ago as being the winners of both first and second honors. When the final counting of the grades for the four-year course was made it was discovered that Richardson Helmle, by a wonderful increase of his grades during the past two months, had forged to the front. …

There was considerable friction between the members of the class on account of the honors received by the colored members. Many of the boys refused to have their photographs in the class picture to be presented to the school, and it is rumored that some of the regular senior class affairs will be missing this year. This fact is greatly deplored by the members of the faculty, who have been asked in regard to the showing made by the colored girls.
The Register added more details two days later. Snowden, the newspaper said, "has worked hard during her entire term of school, and it has developed that it was only a fall in one of her studies in the last two months which kept her from leading the list of honor pupils."
"H. Richardson Helmle, the valedictorian, was greatly surprised when he was told that he had been the winner," the article added.
As salutatorian, Snowden delivered a brief welcome address at the commencement ceremony. School board president Dr. John Scott gave her "special congratulations" at the event, but even in that, Scott's reference to "hereditary efficiency" comes off to a modern reader as a backhanded insult to blacks in general:
It is not only a moment of personal triumph for her, but she has demonstrated for her race that with equal opportunity, nay with less than equal opportunity of hereditary efficiency and social standing, that the appropriation of opportunity terminates in the possibility of highest achievement, and it is not limited by any line of race or color.
Snowden's and Bates' academic achievements were not reflected in extracurricular activities: Notes about the graduates showed none of the four black students was involved in sports or clubs, in contrast to most of the 26 whites. Even when the Register published photos of all the graduates, the four African Americans were segregated in a bottom row all their own.
Snowden (1890-1979) married Albert Meek a few months after graduation, and the couple moved to Kentucky, where Josephine Meek could be a schoolteacher (no blacks taught in the Springfield public schools until 1955). According to a 1976 State Journal-Register article about Josephine Snowden Meek, the couple moved back to Springfield a few years later and divorced in 1935; four of their eight living children stayed with their mother, who went to work for the state of Illinois at age 52. She retired from the Department of Mental Health 30 years later.
Nearly 70 years after her graduation, Meek well remembered her demotion to salutatorian.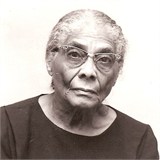 "The teachers marked me down," Meek told State Journal-Register reporter Fran Bernard. "Even my Latin teacher, whom I thought was so wonderful, marked me down. That was quite a humiliation."
Meek, however, had the last word, via a remarkable line of descendants.
Her late daughter Vesta Nichols (1918-2007) — a civil rights activist, state employee and well-known local vocalist –was named to the Sangamon County Senior Citizens Hall of Fame. Nichols' daughter, Meeks' granddaughter, is Springfield physician Dr. Victoria Nichols-Johnson. And grandson Stephen Lockhart was  named a Rhodes Scholar in 1977; as of 2013, he was an anesthesiologist, chief medical officer and outdoor recreation activist in the San Francisco area.
Sources: Illinois State Register articles, January and February of 1907; Albert Meek file at Sangamon Valley Collection, Lincoln Library.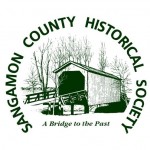 Original content copyright Sangamon County Historical Society. You are free to republish this content as long as credit is given to the Society.