The Springfield School District, founded in 1854, provided separate schools for whites and blacks for most of its first two decades. One white school was located in each city ward (the city administered the schools), and a separate school was opened to African Americans citywide in 1858.
The transition to integrated classrooms in the 1874-75 school year was described by Jessie Palmer Weber in a speech she delivered in December 1914 at the dedication of the new Palmer School building. The school, named in honor of Weber's father, former governor and Springfield School Board member John M. Palmer (1817-1900), had replaced the old First Ward School in 1881. (The speech was printed in full in the Dec. 14, 1914, Illinois State Journal.)
It is most curious that although feeling ran high in regard to the matter of admission of colored children in the schools which had been exclusively for white children, little is said in in the newspapers or even in the report of the superintendent at the time. …

Threats were made by some white citizens and their children, but the board of education and the teachers wisely decided to pursue a policy of masterly inactivity and matters soon adjusted themselves. Many amusing as well as pathetic incidents occurred in connection with the matter.

The first colored girl to enter the high school was Miss Gertrude Wright. She went to school and was at first shunned by the white girls, and as they walked in or out of the building she was left alone. The daughter of General Palmer attended the high school and she walked up to Gertrude Wright and said, "Come, Gertrude, walk with me. I am glad to walk with you."

This girl was Harriet M. Palmer, called Hattie Palmer. She is now Mrs. E.G. Crabbe of Corpus Christi, Texas. Her colored schoolmate became a noted teacher of colored people and married Clement Morgan, a colored lawyer of Cambridge, Mass., where they live in comfort doing much good and are a credit to their race. When John M. Palmer died Gertrude Wright sent a wealth of flowers asking that they might be placed on his coffin.
Gertrude Wright not only became the first black graduate of Springfield High School, she ranked third academically in the class of 1877. The June 16, 1877 Daily Illinois State Journal took note of her achievement.
HIGH SCHOOL COMMENCEMENT EXERCISES, ETC — The Anniversary and Commencement exercises of the Springfield High School take place at the First Presbyterian Church, commencing at nine o'clock this morning. The graduating class is a large one, numbering twenty-eight, and additional interest attaches to it from the fact third in rank among the twenty-eight is Miss Gertrude Wright, a young colored girl, whose percentage of excellence in scholarship exceeds that of all graduates of former years. This is the first instance in Springfield, and believed to be the first in Illinois, where a colored girl graduated at a public school. Her superiority in scholarship is attested by State Superintendent Etter, as one of the examiners, and County Superintendent Rourke, one of the school board. The members of the graduating class all attained high grades in scholarship, higher than usual. The commencement exercises will therefore be the more interesting. All interested in the High School and popular education should attend.
Wright's recitation at the graduation ceremony was "Unknown Heroes," the Daily Illinois State Register reported the same afternoon.
"The personal history of this young lady, being the pioneer of the colored race in competing with the Caucasian race in the higher departments of education, caused her to be listened to with additional interest," the newspaper said. "The essay was written in a spirit of kindness and read with becoming modesty."
As Jessie Weber had noted, Wright went on to a teaching career — but she couldn't do so in Springfield, where the city's public schools refused to hire African American teachers. The Springfield School District didn't employ its first black teacher, Mae Hammons, until 1955. African American underrepresentation among Springfield teachers remained an issue in 2013.
Both Gertrude Wright Morgan and her husband Clement later played prominent roles in W.E.B. Dubois' short-lived Niagara Movement, designed to create an activist counterweight to Booker T. Washington's accommodationist approach to civil rights. Gertrude Morgan headed the movement's women's auxiliary.
Note: Jessie Palmer Weber was distinguished in her own right. She was Illinois state librarian from 1898 until her death in 1926 and also helped organize and served as the first secretary of the Illinois State Historical Society. More information on her is available on JSTOR (free registration required).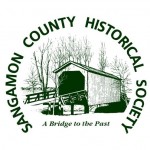 Original content copyright Sangamon County Historical Society. You are free to republish this content as long as credit is given to the Society.