The Allis-Chalmers Manufacturing Co. (later Fiat-Allis and Fiatallis) made heavy construction equipment from 1928 until 1985 at a 70-acre plant between Sixth and 11th streets and Stanford Avenue and Stevenson Drive. At its peak in the 1960s, A-C employed about 6,500 people in Springfield.
Allis-Chalmers' first Springfield plant was bought from Monarch Tractor Corp., which was in financial straits, in 1928. The Springfield Monarch factory, which was descended from a company that had manufactured crawler tractors in Watertown, Wis. since 1913, had opened in 1925. (The Wisconsin Monarch should not be confused with an identically named British manufacturer.)
RitchieWiki, a collaborative website about heavy equipment, explained Allis-Chalmers' interest in Monarch.
Monarch's pre-existing models, the Six-Ton and the Ten-Ton, would form the basis of Allis-Chalmers' new track-type tractor line-up. Eventually, they would develop new models that included the Model 75/Model F and Model 50/Model H. These models were abandoned for the more favorable Model K, Model L, and Model M and in 1937 the Model S.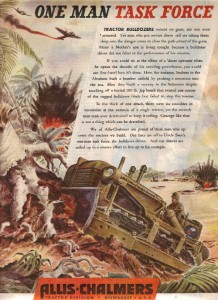 Like most manufacturing firms, Allis-Chalmers' production was switched to wartime purposes during World War II. Although other portions of the firm contributed to the atomic bomb project, the Springfield plant's output continued to focus on heavy equipment, such as artillery tractors and bulldozers, many of them used for airfield construction.
The Illinois State Journal noted A-C's contribution to the war in a V-E Day edition on May 9, 1945.
The Allis-Chalmers Co. was the largest manufacturer of the crawler tread prime mover, and also the M-18, a machine which carried a crew of 15, supplies of ammunition and a large calibre field gun at high speed.
Following the war, A-C moved to outflank competitors like Caterpillar with the HD-19, the world's largest track-type tractor. More than 2,600 were sold before the next model, the even more powerful HD-20,  went into production.
A-C expanded in Springfield by buying American Radiator Co.'s factory at 11th and Ash streets in 1944 (that facility, identified as A-C's No.. 2 plant, closed in 1968) and then added the Baker Manufacturing Co. plant, 503 E. Stanford Ave., in 1955. A-C also had a proving ground along the Sangamon River near Mechanicsburg.
Major products at the Springfield plant included crawler bulldozers, such as the HD-14 and later the HD-41 lines, and heavy-duty graders.
Facing both a recession and increased competition in the construction machinery, Allis-Chalmers entered a joint venture with Fiat S.p.A. in 1974. (A-C was the junior partner, with 35 percent ownership.) The venture operated under the names Fiat-Allis and then Fiatallis, but never gained the sales it needed.
The Springfield Fiatallis factory finally closed, costing the area 1,700 jobs, in 1985. Fiatallis itself eventually was sold to CNH.
"The loss of Fiat-Allis was the final blow to manufacturing as a dominant employer in Springfield industry," wrote Edward Russo, Melinda Garvert and Curtis Mann in their 1998 Springfield Business: A Pictorial History.
Hat tips: This entry has been edited to reflect Steve O'Connor's better information on peak employment at A-C. See his comment below for much more information about the company in the early 1960s. In addition, Kenneth Vance's comment below has more detail about Fiatallis' last years and its final shutdown.  Thanks to both of them.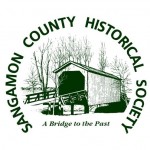 Original content copyright Sangamon County Historical Society. You are free to republish this content as long as credit is given to the Society.