The Bettie Stuart Institute educated young women, mainly from the Springfield area, from the 1860s into the 1930s. Courses ranged from English, math and foreign languages to art, vocal and instrumental music, but, as an advertisement for the school pointed out in 1884, "Careful attention is given to the moral and physical culture of the pupils, as well as to the intellectual training."
The school was named after Bettie Stuart Brown (1838-69), a daughter of John T. Stuart, once a law partner of Abraham Lincoln and a cousin of Mary Lincoln. After Bettie Brown's early death of dysentery, her husband, Christopher Brown, largely funded the founding of her namesake institute, which originally was housed in the couple's former home at Fourth and Jackson streets.
The institute, which was both a boarding and day school, educated the daughters of many of Springfield's most prominent families, such as Susan Lawrence. Two alumnae of the institute later remembered their days at the school for the University of Illinois Springfield's Oral History Collection.
The school's founding principal was Mary McKee Homes (often misspelled "Holmes" in later reporting), who headed the institute until her death in 1888.
The school was then taken over by the Brooks family of educators. Eliza Johnson Brooks served as principal from 1888 to 1909, and her daughter, Anne Hamilton Brooks, was principal from 1909 until the school closed in 1937. All five of Eliza Brooks' daughters were involved with the school at one point or another. (Andrew Brooks, the family patriarch, served as both city and county superintendent of schools, but did not teach at the institute.)
"It is the aim of the Bettie Stuart Institute to mould the growing life of the young girl into qualities of character and charm that shall give her a place in society," the  Illinois State Register reported on Aug. 27, 1916. "To be able to think quickly and accurately, to be a gifted conversationalist and above all to possess genuine Christian womanhood is the zealous desire of the school for every girl."
The Bettie Stuart Institute moved to the Wiggins Farm in the 1600 block of West Laurel Street in 1921, but a fire forced the institute to move again in 1923 to 1931 S. Park Ave. There, newspaper reports say, the institute's facilities included the school, a dormitory and landscaped grounds that included courts for basketball, tennis and volleyball.
For the 1935-36 school year, tuition, room and board for resident students was $250 per half-year. "Each boarding pupil is expected to bring with her a napkin ring, six towels, one pair of rubbers, an umbrella and a Bible," school literature said.
More information: Sangamon Valley Collection at Lincoln Library.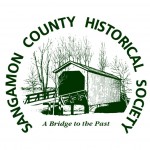 Original content copyright Sangamon County Historical Society. You are free to republish this content as long as credit is given to the Society.