Beaches at Lake Springfield were segregated until 1952. The Lake Springfield Beach, near Lindsay Bridge, was open only to whites. Blacks were restricted to using Bridgevew Beach, which was on the south side of the lake.
The city of Springfield closed Bridgeview Beach in the early 1970s, but the former segregation of city beaches was one of the factors cited when a federal judge overruled Springfield's commission form of city government.
(Photo: Sangamon Valley Collection)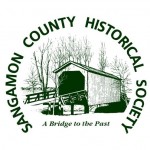 Original content copyright Sangamon County Historical Society. You are free to republish this content as long as credit is given to the Society.