Moses Broadwell (1764-1827), a Revolutionary War veteran, moved to Sangamon County with his family in 1820 and settled along Richland Creek, a mile east of the present-day community of Pleasant Plains. There they built a home and a traveler's inn in 1824.
The home was demolished when a railroad was built through the area. The inn burned down, but was rebuilt in the 1830s, and today's inn, which is being restored, is one of the oldest brick structures in Illinois. The inn served as a stagecoach stop until 1847, with visitors including Abraham Lincoln. (Clayville was a headquarters for activities of the Whig Party during the period, and the Broadwells called the area "Clayville" after Whig statesman Henry Clay.)

Clayville went through several owners until about 1961, when Dr. Emmet and Mary Pearson bought the property, began restoring the inn and adding outbuildings — some historic structures, some new — to the site. (Emmet Pearson was named Springfield First Citizen in 1992, partly because of his Broadwell Inn restoration activities.)
The Pearsons donated Clayville to Sangamon State University (now the University of Illinois Springfield), which operated the Clayville Rural Life Center there until 1992. During that period, Clayville was a popular tourist and festival site. Clayville then became privately owned and deterioriated, to the point that it was designated one of the 10 most endangered historic sites in Illinois in 2007.
However, the Pleasant Plains Historical Society bought the property in 2010 and has begun restoring the inn and surrounding buildings.  As of 2013, Clayville and the Broadwell Inn were once again being operated as a historic site. The inn is on the National Register of Historic Places.
More: Moses Broadwell also was instrumental in the development of Sangamo Town.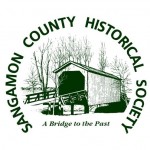 Original content copyright Sangamon County Historical Society. You are free to republish this content as long as credit is given to the Society.