The community of Cantrall had its beginnings in the winter of 1818-19, when Stephen England and two of his sons-in-law, Andrew Cline and Wyatt Cantrall, traveled through Springfield to the north side of the Sangamon River.  There, each of the three chose home sites.
"In order to prevent others who might come after from choosing the same ground, they cut a few logs, laid them across each other in three piles, and each man cut his initials on a tree near by, as evidence that the land was claimed," according to Interstate Publishing's 1881 History of Sangamon County.
The group, plus England's son David, returned in March 1819 to begin construction; their families joined them in June.
Stephen England was a Baptist preacher — "He preached the Gospel as long as he could stand, and delivered his last sermon standing," the History reports. England organized a church service in late June or early July 1819, "the first sermon ever preached north of the Sangamon River in this county," and his Antioch Christian Church is credited as the county's first such organization.  He also solemnized one of the county's first marriages, between Philo Beers and Martha Stillman, on Nov. 2, 1820.
Today: Cantrall, population 139 in 2010, is 10 miles north of Springfield on Illinois 29.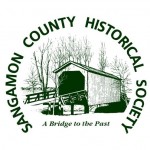 Original content copyright Sangamon County Historical Society. You are free to republish this content as long as credit is given to the Society.