Carpenter's Mill, a saw and grist mill, was built in 1845 near where modern Business Route 55 crosses the Sangamon River south of Sherman. The rock cut where the old road went through the bluff is still visible. The mill site today is between Riverside Park on the south side of the river and Carpenter Park on the north.
William Carpenter, Mordecai Moberly and James C. Stephenson & Company petitioned the Sangamon County Commissioner's Court to erect a dam across the North Fork of the Sangamon River on Dec. 20, 1830. Their petition was rejected, citing a state law, which prevented navigable waterways (such as the Sangamon), from being obstructed by dams. Later, Carpenter reapplied by himself and received permission to build the dam. County histories state that he built a grist and sawmill with his son-in-law Adolphus Wood.
The new mill was initially called Rock Dam Mill, after the rock dam that was constructed across the river. By 1849 the mill was also known as the "Farmer's Mill", which produced the "most excellent flour" and at which "considerable is done in manufacturing lumber." The mill, ultimately k
nown as Carpenter's Mill, employed six people by 1850.
After the deaths of William Carpenter in 1859 and Adolphus Wood in 1861, William's son George assumed operation of the mill. George leased the mill to a number of individuals for about 10 years. The mill closed about 1870 and slowly deteriorated. The site of Carpenter's Mill became a well-known destination for picnics and fishing during the Victorian era.
The drought of 2012 exposed the foundations and other artifacts of the mill, and the Springfield Park District was considering how best to protect the site.
Contributor: Curtis Mann
More information
Watermills of the Sangamo Country by Curtis Mann, 2004 (Lincoln Library Sangamon Valley Collection)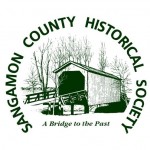 Original content copyright Sangamon County Historical Society. You are free to republish this content as long as credit is given to the Society.