The Catholic Diocese of Springfield in Illinois has had nine bishops since 1857, counting from the period when the seat of the diocese was in Alton (the planned original seat was Quincy, but no bishop was installed before the location was changed in 1857). Here is a summary:
Pre-diocese history
Before Illinois had its own episcopal see, there were four bishops who oversaw Illinois Catholic churches.  Rev. John Carroll (1735-1815), considered the first Catholic Bishop of the United States, oversaw Illinois as well as the American Colonies while serving as Bishop of Baltimore. Next, French-born Rev. Benedict Joseph Flaget (1763-1850) oversaw the Bardstown Diocese (formed in 1808) that included portions of modern-day Kentucky, Tennessee, Missouri, Illinois, Wisconsin, Indiana, Michigan and Ohio.  Rev. Giuseppe (Joseph) Rosati (1789-1843), an Italian, served as the first bishop of the Diocese of St. Louis when it included the western and northern portions of Illinois. And Rev. Simon William Gabriel Bruté (1779-1839) was a French-born cleric, who along with Bishop Flaget, emigrated to Bardstown.  Bruté later served as Bishop of the Diocese at Vincennes, Indiana (formed in 1834) as Illinois was within its jurisdiction.
Bishops are listed in a history on the diocesan web site. Through 2013, they have been: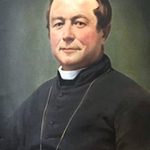 *Henry Damian Juncker (1809-68), a native of Fenetrange, France, emigrated to Ohio, where he was appointed to Holy Trinity Church, the first German congregation in Cincinnati. In 1857, he became the first bishop of the newly formed Alton, Illinois Catholic Diocese that oversaw the Catholic churches in Sangamon County.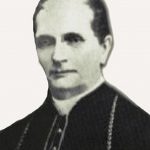 *Peter Baltes (1824-86), born in Einsheim, Germany, was  consecrated in 1870 in Belleville.  "He wanted every parish with a sufficient number of children to have a parochial school," according to the diocesan history. "Parishioners who refused to support a school were not to receive the sacraments. He also regulated building projects so that parishes would avoid overwhelming debt and he insisted that all new buildings be constructed of brick to prevent destruction by fire." Baltes also recruited women religious.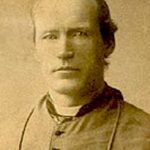 *James Ryan (1848-1923), was born in County Tipperary, Ireland and emigrated to the U.S. with his parents in the 1850s. He was consecrated in Alton in 1888. His was the longest tenure of any bishop of the diocese. "Ryan's tenure as bishop coincided with the biggest wave of immigration in American history. …  He recognized the desirability of offering preaching and confession in the native tongue of the faithful and tried to supply priests who spoke the various languages," the diocesan history says.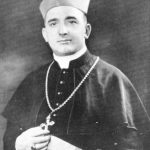 *James Griffin (1883-1948); consecrated in Chicago in 1924. Pope Pius XI transferred the see to Springfield in 1923, making Griffin the first bishop of the Diocese of Springfield in Illinois. Griffin "awoke the social conscience of the diocese and ushered it into the twentieth century," according to the diocesan history. Under his administration, the Springfield diocese created Catholic Social Services (now Catholic Charities) in 1925, supported a variety of lay organizations, and backed Co-op Parish Activities Services, which offered programs on modern farming techniques in rural parts of the diocese.
The Cathedral of the Immaculate Conception was constructed early in Griffin's tenure.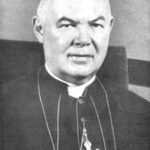 *William A. O'Connor (1903-83); consecrated in 1949 in Chicago, retired as bishop in 1975. O'Connor opened the diocesan Latin School (later the Diocesan Seminary of the Immaculate Conception) in 1949 to educate homegrown priests. The seminary closed in 1986. O'Connor was one of five co-presidents of the American Bishops Council during the Vatican II Council in Rome.
"After Vatican II, O'Connor began to execute the mandates of the council. The bishop expected compliance with duly authorized changes even though he personally lacked enthusiasm for some of them," the diocesan history says.
*Joseph McNicholas (1923-83) was consecrated an auxiliary bishop in St. Louis in 1969 and installed as bishop of Springfield in 1975. Civil rights advocate who helped organize Martin Luther King Breakfast, warned diocesan schools against becoming havens for people attempting to avoid public school desegregation. Created diocese-wide pro-life program, initiated "Come Home for Christmas" campaign to reconcile fallen-away Catholics. Died unexpectedly on April 17, 1983.
*Daniel Ryan (1930-2015) was born in Minnesota. His family moved to Springfield in the mid-1940s, and he attended local Catholic schools. Ryan was consecrated auxiliary bishop in Joliet in 198 and installed as bishop of Springfield in 1984. Ryan initiated a parish life coordinator program, keeping parishes open despite lack of resident priests and created campus and lay ministry offices. Ryan, who underwent treatment for alcoholism in 1986, was the subject of rumors of sexual improprieties involving adult men, rumors later confirmed by a diocesan investigation. The Vatican announced his retirement and the appointment of his successor on Oct. 19, 1999.
*George Lucas (born 1949) was consecrated in 1999 in Springfield. He created a fundraising program for education, "Harvest of Thanks, Springtime of Hope" and  established a diaconate formation program and ordained first class of 18 deacons in 2007. Lucas created a panel to investigate accusations of misconduct by local Catholic clergy. He was named archbishop of Omaha in 2009, the first Springfield bishop to be promoted to archbishop.
*Thomas John Paprocki (born 1952) was appointed auxiliary bishop in Chicago in 2003 and installed as Springfield bishop in 2010. Has been vocal about objections to federal requirements that health insurance programs offered by Catholic-related institutions provide contraceptive coverage. Paprocki was one of three bishops named to examine "doctrinal " positions expressed by the Leadership Conference of Women Religious.
As of 2013, the Diocese of Springfield took in 143,000 Catholics and 130 parishes in 28 counties across central Illinois.
More information: History of the Diocese of Springfield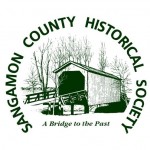 Original content copyright Sangamon County Historical Society. You are free to republish this content as long as credit is given to the Society.