Central Baptist Church, 501 S. Fourth St. in Springfield, lays claim to the heritage of Springfield's original Baptist congregation, which was formed by eight members on July 17, 1830. The church originally was known as First Baptist Church of Springfield.
"Over the next 40 years, members of the First Baptist Church of Springfield helped to organize Baptist churches in Loami, Clary Grove, Rock Creek, and Decatur, and established the North Baptist Church in Springfield," a church history says.
First Baptist and North Baptist merged in 1880 to become Central Baptist. The new congregation went on to help found more Baptist congregations: South Seventh Street (now Cherry Hills), Elliott Avenue, Harvard Park, and Fairview Baptist churches in Springfield, Judson Baptist Church in Chatham and Rolling Prairie Baptist Church in Rochester.
Meanwhile, First Baptist Church of New Berlin, founded on Oct. 6, 1833, joined with Bates Presbyterian Church in 1965 to form United Baptist Church. In 1971, United became the New Berlin campus of Central Baptist.
Central Baptist's current Springfield building was dedicated in December 1966.
"History buffs will be interested to know that the church bell at our Downtown Campus is the same bell Abe Lincoln heard ringing at First Baptist Church when he lived and worked in Springfield," the church history adds.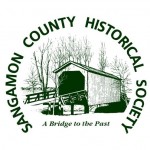 Original content copyright Sangamon County Historical Society. You are free to republish this content as long as credit is given to the Society.