Philip Crowder (1759-1844), who is buried in a family plot in on the west side of Old Chatham Road across from Illini Country Club in Leland Grove, was a veteran of the American Revolution. He applied for a military pension as a result of that service in 1832.
He described part of his service — and outlined some of the difficulties Revolutionary War veterans often had in seeking pensions — in this excerpt from the application (punctuation in original).
During the 3 mos. that we were in or near Portsmouth we were employed in protecting the country against the Tories who were embodied in small companies in the Dismal Swamp on one occasion I volunteered with about 40 others under Capt. Swepston to go in pursuit of a party of Tories who had fired upon a Company marching to join us. In this expedition after a slight skirmish we took fifteen prisoners who were sent to Hampton where Gen'l Scott then was. I do not remember any continental or militia regiments nor the names of any regular officers who served with us I received my discharge at Portsmouth from Col. Macklin – which I have lost.
The full application, as transcribed and annotated by C. Leon Harris, can be read here.
More than 50 people buried in Sangamon County are thought to have served in the Revolution.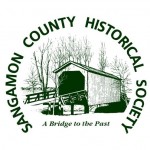 Original content copyright Sangamon County Historical Society. You are free to republish this content as long as credit is given to the Society. Learn how to support the Society.