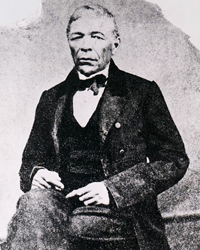 William Fleurville (1807-1868) was a Haitian-born barber and businessman whose shop on Adams Street between Fifth and Sixth streets became a regular meeting place for Springfieldians, including Abraham Lincoln.
The spelling of Fleurville's last name is inconsistent; he often used the Haitian/French "Fleurville" in advertisements, for instance, but he signed his famous letter to Lincoln as "Florville," and both William and his wife Phoebe are buried — separately, William (a Catholic) at Calvary Cemetery and Phoebe at Oak Ridge Cemetery — under the last name "Florville." (As was common for African Americans at the time, Fleurville also acquired a belittling nickname, "Billy the Barber," which has stuck into the 21st century.)
Fleurville, who had lived in Baltimore, New Orleans and St. Louis after leaving Haiti as a child, came to Springfield in 1831.
John Carroll Power claimed that Fleurville first arrived at New Salem, where "a tall man wearing a red flannel shirt, and carrying an axe on his shoulder" befriended him and recommended Fleurville go on to Springfield. As the story goes, of course, the tall man turned out to be the young Abraham Lincoln.  (Another version of Fleurville's journey to Springfield suggests that it arose from a Baltimore acquaintanceship with Dr. Elias Merriman, who had moved to Springfield and also was a friend of Lincoln.)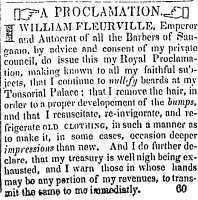 Fleurville was successful in Springfield, apparently with the help of some flamboyant early advertising (left). A canny businessman, he at one point owned nearly the entire block of Washington Street between Eighth and Ninth streets. Fleurville also reputedly operated Springfield's first dry cleaners.
However Fleurville met Lincoln, there seems to be no question that Fleurville served as Lincoln's barber for virtually all the 24 years Lincoln lived in Springfield and that, in return, Lincoln served as Fleurville's lawyer in several real estate matters.
The Lincoln-Fleurville connection extended beyond the Springfield years, as well. Fleurville wrote a letter of appreciation after the death in 1862 of the Lincolns' son Willie that showed the two men were on familiar terms.
… I was surprised about the announcement of the death of your son Willie. I thought him a smart boy for his age, so considerate, so manly, his knowledge and good sense far exceeding most boys more advanced in years. Yet the time comes to all, all must die.

I should like very much, to see you, and your family, but the priviledge (sic) of enjoying an interview, may not, if ever come.  …

Tell Taddy that his and Willie's dog is alive and kicking, doing well. He stays mostly at John E. Rolls with his boys who are about the age now that Tad and Willie were when they left for Washington. Your residence here is kept in good order. Mr. Tilton has no children to ruin things. (Ed.: Lucian Tilton rented the Lincolns' Springfield house after the family moved to Washington.)
Fleurville was an honorary pallbearer at Lincoln's funeral in Springfield. When Fleurville himself died three years later, Phoebe Fleurville inherited "a considerable property, consisting of fifteen business and tenement houses in Springfield and a farm of eighty acres in Rochester township," Power reported.
Grandchildren of William and Phoebe Fleurville included George Richardson, whose arrest on a false charge of rape ignited the Springfield race riot of 1908, and Col. Otis B. Duncan, the U.S. Army's highest ranking black officer in World War I. Many other descendants of the couple continue to live in the Springfield area.
Note: Lawyer/historian Richard Hart has thoroughly demolished some widespread misconceptions about Fleurville, in particular that he was Springfield's first black resident and Lincoln's sole black acquaintance prior to his presidency. For detailed information, see Hart's Early African American Population of Springfield Illinois. Hart also presented a somewhat easier-to-follow synopsis  in the Winter 1999 issue of the Journal of the Abraham Lincoln Association.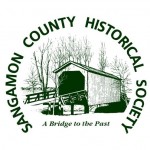 Original content copyright Sangamon County Historical Society. You are free to republish this content as long as credit is given to the Society. Learn how to support the Society.