Sangamon County was named after the Sangamon River, which winds through the county from the east to northwest. For its part, the river apparently got its name from an early French explorer, the Jesuit priest Father Pierre Charlevoix, who traveled down the Mississippi and Illinois rivers in 1720-22.
But what did "Sangamon" (or "Sanguimont," as Charlevoix spelled it, or even "St. Gamo," "St. Gamee" or "St. Gamoin," as variously interpreted by others) mean to Charlevoix?
The  Illinois Secretary of State's Office endorses a popular, albeit boosterish explanation: "Named after the Sangamon River … which derived its name from the Pottawatomie … word Sain-guee-mon or Sangamon (pronounced sang gä mun) meaning literally 'where there is plenty to eat' or what we would call the 'land of milk and honey.'"
Edgar Lee Masters suggested several alternatives: Charlevoix, Masters wrote,
called the Sangamon the Sa-qui-mont.  The … word was probably 'Sau-kie-min,' from "auki,'"earth, and "min," good. Another derivation is said to be from "Saukie," the name of  (a Native American) tribe, and "ong" meaning a place; in other words, a river of the Sauks.  Another derivation is "sa-gie," meaning a lake, and "mong," meaning a loon. (From sangamonriver.org)
But the meaning that gets the most respect from scholars was researched by Virgil Vogel for his work, "Indian Place Names in Illinois," published in 1963 by the Illinois State Historical Society. His definition of "Sangamo/Sanguimont" is lamentably prosaic: "River mouth." Which, of course, makes the name in translation the "River-mouth River" and Sangamon County "Rivermouth County."
Pronunciation note: Strangers to the area often pronounce the word "San-ga-MON." Locals prefer a slurred "SANG-uh-min."
More information
Chris Patton wrote an excellent summary for the May 1982 edition of Historico, the newsletter of the Sangamon County Historical Society; a reprint and further discussion was published in 2003. And historian John Mack Faragher — who likes the derivation "San-gam-ma" — endorses Vogel's research in "Sugar Creek: Life on the Illinois Prairie" (pp. 74-5).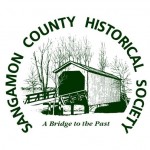 Hat tip: For an even deeper dive into the complexities of the origin of "Sangamon," see the discussion below from commenter "Sam."
Note: This entry has been edited (2021) to reduce usage of the term "Indian." See discussion in comments.
Original content copyright Sangamon County Historical Society. You are free to republish this content as long as credit is given to the Society. Learn how to support the Society.