Founded in 1884, the Franklin Life Insurance Co. remained an important force in Springfield's economy into the 21st century.
Franklin Life was founded  by a half-dozen central Illinois residents in 1884. They pledged to offer up to $3,000 in insurance to "all male persons who can pass a proper medical examination, between the ages of twenty-one and fifty-five." Payouts were to be made by assessments on members. Henson Robinson was the first president.
The company continued steady but unspectacular growth over the next 50 years, reaching $100 million of insurance in force in 1920 under president George B. Stadden. However, when Charles E. Becker, a Texas insurance entrepreneur, took ownership in 1939, Franklin's business began a rapid upswing.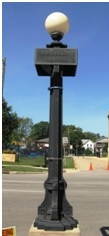 Franklin Life had completed an imposing new headquarters at Sixth Street and Lawrence Avenue in 1913.  The Becker regime led to more expansion; major office buildings were completed in 1949 and then in 1964. The company also developed a Modernist apartment building intended partly for use by its executives, The Town House at 718 S. Seventh St.  (It is now condominiums.) Even the lightposts around the headquarters complex denoted it Franklin Square (and still did as of 2013).
The company also was one of the first private firms to adopt early computer technology. Franklin Life received the 15th Univac computer ever built.
Becker was succeeded as president by his close associate (and acquaintance from high school), Francis Budinger, in 1961 and then by George Hatmaker (1910-2003) in 1964. William Alley (1929-1996) became CEO in 1976. (Both Becker and Budinger were named Springfield First Citizens, Becker in 1965 and Budinger 10 years later.)
The Franklin lost its independence when it was purchased by American Brands in 1979. Consolidations continued — American General bought The Franklin for $1.2 billion in 1995, and the company became part of insurance giant AIG in 2001.
Employment dropped from 1,300 in 1991 to about 400 in 2008, when the company moved out of its signature headquarters. The Greater Springfield Chamber of Commerce listed American General as having 410 employees in Springfield in November 2012, which still left the company ranked as the city's eighth-largest private employer.
The former Franklin complex was purchased by the state of Illinois and converted to headquarters for the Illinois State Police.
Franklin Life policy information:
Editor's note: The information below from commenter Lonnie Dunn is several years old; it may or may not be current. In 2023, AIG, a successor to The Franklin, listed the following phone number for claims and other information: 1-800 CALL-AIG (800-225-5244).
The following information comes from commenter Lonnie Dunn. Our thanks to him.
To those of you who hold Franklin Policies, I have read, and researched that the company which honors them is a spin off of AIG and they are in Houston.
Mailing Address: P O Box 1591
Houston TX 77251-1591
Office Number: (713)831-3174
Toll Free Number: (800)231-3655
Fax Number: (713)831-4345
Physical Address: 2727 Allen Pkwy Ste A
Houston TX 77019-2116
More information: "The Fabulous Franklin Story," Francis O'Brien, 1970 (available at Lincoln Library, Springfield)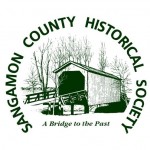 Original content copyright Sangamon County Historical Society. You are free to republish this content as long as credit is given to the Society. Learn how to support the Society.