Elizabeth Graham (1892-1982), though a Springfield High School English teacher and department head for nearly 40 years, is best known for her unswerving dedication to the poetry and memory of Vachel Lindsay.
Graham. born in Galena, attended a Lindsay recitation while she was a student at the University of Illinois.
"I went into (his lecture) with the attitude that all students have — Here I'm going to see a freak. A freak," she said, as recounted in her State Journal-Register obituary published Nov. 11, 1982. "I hadn't heard him talk 10 minutes before I was absolutely caught in his net."
Graham met Lindsay personally a few years later through Lindsay's high school mentor, Susan Wilcox, also a longtime SHS English teacher. Graham and Wilcox shared living quarters with a third SHS faculty member, Louse Welch, head of the high school's history department. "They were among the nucleus of a group that supported and encouraged Lindsay when the poet was largely disregarded by the rest of his hometown," the obituary writer reported.
Graham taught at SHS from 1918 to 1957, serving for nearly 20 years as SHS department head. She resigned publicly, at a school board meeting, because she objected to a new school policy that forbade her to group students by ability and help each one individually.
She then devoted virtually all her attention to the Lindsay Home, now the Vachel Lindsay Home State Historic Site at 603 S. Fifth St., where the poet was born and died. She already had helped found the Vachel Lindsay Association in 1946. In retirement, she chaired a fundraising drive to pay off the home's mortgage and served as the association's corresponding secretary and as custodian and tour guide at the home.
"Perhaps more importantly however, she served as a source of Lindsay lore and interpreter of his works for the thousands of scholars, Lindsay buffs and casual visitors who came to the home during her years there," the obituary said. Graham was named the 1967 Springfield First Citizen for her Lindsay preservation efforts.
The late Stephen Glosecki, professor of Old English at the University of Alabama-Birmingham and the son of Edith Glosecki, a Graham confidant during her later years at Springfield High, delivered a eulogy at a memorial service for Graham in December 1982.
"Like most everyone else, I knew better than to cross Elizabeth E. Graham, former head of the Springfield High English department; longtime curator of the Vachel Lindsay home; actual friend and erstwhile confidante of the late great poet himself; thinker, dreamer, keeper of the flame of song-craft," he said. "She was a Springfield institution, in and of herself a monument to Lindsay and the fox-fire magic of the well-wrought word."
More information: See the Elizabeth Graham folder in the Sangamon Valley Collection at Lincoln Library. In addition, Graham spoke to interviewers for the Sangamon State University (now University of Illinois Springfield) oral history project in 1972 and 1980. See also a portion of the Historic Films Archive on Springfield that includes comments by Graham, as well as (briefly) the late Lindsay scholar Dennis Camp.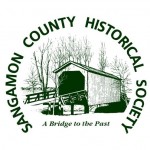 Original content copyright Sangamon County Historical Society. You are free to republish this content as long as credit is given to the Society. Learn how to support the Society.