George Gregory (1808-88) was the engineer on the first locomotive to enter Springfield on Feb.  15, 1842.
Gregory, a native of Derbyshire, England, immigrated with his wife Sarah to the U.S. in 1832 and arrived in central Illinois in 1836. Gregory, who had worked on railroad locomotives in Pennsylvania, at first was a farmer and blacksmith in Sangamon County. However, he soon went to work for the Northern Cross Railroad, which was built between Meredosia and Springfield from 1838 to 1842.
"He ran the road for about three years, and in the capacity of engineer, with T.M. Averitt as fireman, ran a locomotive from Jacksonville to Springfield, arriving Feb. 15, 1842, being the first railroad engine that ever entered the Capitol (sic) of the State of Illinois" (italics in original), John Carroll Power wrote in his 1876 History of the Early Settlers of Sangamon County, Illinois.
Gregory later returned to farming and at one point was one of the largest landowners in the county, with 3,000 acres. He also was a friend of Abraham Lincoln, according to the Portrait and Biographical Album of Sangamon County (Chapman Brothers, 1891).
George and Sarah Gregory are buried in Oak Ridge Cemetery.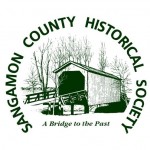 Original content copyright Sangamon County Historical Society. You are free to republish this content as long as credit is given to the Society. Learn how to support the Society.