Memorial Hall — still better known as the Hall of Flags, even though the flags have been gone for more than a decade — is the grand vestibule of the State of Illinois' Michael J. Howlett Building, itself originally called the Centennial Building.
The building, which opened in 1918 to commemorate the 100th anniversary of Illinois statehood, was designed to accommodate not only state offices but a variety of special-purpose rooms, then including the state library and state museum.
Among those spaces was Memorial Hall. It was lined with 20 ornamental iron and plate glass display cases. In them were mounted the state's collection of battle flags carried by Illinois regiments during the Civil War, the Spanish-American War, and World War I. The flags had outgrown the previous Memorial Hall, opened in 1878 in the remodeled Art Gallery in the East Wing of the statehouse.
In functional terms, the Hall of Flags is in fact only an entrance hall, albeit on a monumental scale. The space is sheathed in Mankato stone and its ceiling in decorated gold leaf. Architect and critic Christian K. Laine has praised it as "one of the city's most illustrious interior spaces."
The hall, like its host building, was designed by state architect Edgar Martin in association with the firm of Schmidt & Garden. The main facade is dominated by a Corinthian portico of 12 columns, a motif that is repeated in the Hall of Flags, which is flanked by twin rows of 12 columns that run the length of the north wing. Light is provided by high arched windows that pierce the high, rusticated first story.
That daylight, along with dry heat and cigarette smoke, combined to damage the flags lining the hall. In 2003, 464 of the relics were removed to a climate-controlled storage facility at Camp Lincoln in Springfield, where most still await preservation.
The room also has been rented out as an events venue. The hall became a familiar place to thousands of Springfieldians over the years, who gathered there for organization banquets, music performances and dances, even karaoke singing. Typical were the all-day music performances in 1998, held as part of that year's Illinois Music Education Day and hosted by the Springfield Women's Symphony Guild of the Illinois Symphony Orchestra.
Contributor: James Krohe Jr.
Source: Landmark Springfield: Architecture and Urbanism in the Capital City of Illinois by Christian K. Laine, introduction by Edward J. Russo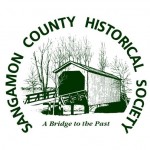 Original content copyright Sangamon County Historical Society. You are free to republish this content as long as credit is given to the Society.