Founded in 1866, R.F. Herndon & Co. sold dry goods and women's and children's clothing, specializing for many years in gloves.
Herndon's was on Fifth Street until 1964, when it moved to 206 S. Sixth St.  A Herndon's opened in Town & Country Shopping Center in 1960, followed by a third outlet when White Oaks Mall opened in 1977. The Town & Country store closed in 1978 and then the downtown store in 1979.
Herndon's continued to operate at White Oaks until May 1997.
"It's the end of the string," John Herndon Jr., third generation of the family to own Herndon's, said in announcing the closure.
Note 1: This entry has been corrected and expanded. Thanks to Doug Mayol for pointing out our error. 
Note 2: SangamonLink published a second, much more detailed entry on R.F. Herndon & Co. in 2021. You can read that here. 
Source: Department store summary, Sangamon Valley Collection at Lincoln Library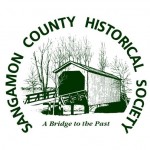 Original content copyright Sangamon County Historical Society. You are free to republish this content as long as credit is given to the Society.