Dr. Thomas Houghan (??-1862) built the Springfield home now known as Edwards Place in 1833. He sold it to Benjamin Edwards in 1843.
Houghan was one of the first 10 physicians in Springfield and played a prominent role in local affairs, serving on the city health board, as a bank and railroad director and as a founding trustee of the University of Illinois.
After his death, however, a headline-making lawsuit in New York state revealed that Houghan had lived a double life.
As outlined by Erika Holst in the November 2011 edition of Historico, the Sangamon County Historical Society newsletter, the doctor's real last name was Houghon. He had changed the spelling after serving a term in debtors' prison and then, in 1817 or 1818, abandoning his wife and child in New York.
Following his disappearance, Houghon/Houghan reportedly spent some time in Central or South America. He then moved to St. Louis, where he became a bookseller and bigamously married another woman.
Houghan returned to the practice of medicine when he became a Springfield resident in the early 1830s. Although his New York relatives located him about 1835, according to a deposition filed as part of the later lawsuit, they "religiously kept the secret of his identity" until after his death in St. Louis in 1862.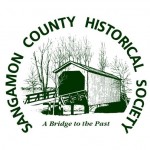 Original content copyright Sangamon County Historical Society. You are free to republish this content as long as credit is given to the Society.