The house pioneer merchant Elijah Iles is thought to have had built for his family near Sixth and Cook streets in the 1830s* now is a museum and display place for exhibits focused on Springfield history.
Both Abraham Lincoln and Vachel Lindsay are known to have visited residents of the home.
Although moved twice, the building itself – Greek Revival in style, with timber framing and walnut siding – is relatively unchanged, retaining its original walnut woodwork, fireplace mantels, staircase, walls and hardware. It is usually considered the oldest home in Springfield.
The Iles House currently sits at Seventh and Cook streets, a block from where it was built.
The building is operated by the non-profit Elijah Iles House Foundation and houses the Springfield Museum and the Illinois Watch Collection of Ann and Farrell Gay.  The house is listed on the National Register of Historic Places.
Iles House timeline 
Late 1830s*: Constructed near Sixth and Cook streets by pioneer merchant and developer Elijah Iles.
1841: Purchased by Robert Irwin, banker, merchant and friend of Abraham Lincoln.
1865: Robert Irwin dies; family retains home.
1891: Sold to Edward and Frances Hall. Edward Hall also was a merchant and banker. Frances Hall had a variety of charitable interests; she also founded the Physical Culture Club, which became the Springfield Woman's Club.
1909: House sold to Latham and Lyna Souther, but First Christian Church buys the land to construct a new church building. The Southers move the home to 1825 S. Fifth St. Latham Souther was a banker and Lindsay's trust officer. Lyna Souther, a landscape artist, was a founder of the Springfield Art Association.
1951-81: House goes through series of owners, including physician and preservationist Dr. Floyd Barringer; it is converted into two apartments, one in front of home, one in back.
1981: House purchased by preservationists Nanchen and Michael Scully.
1993: City of Springfield purchases home. Elijah Iles House Foundation formed.
1998: Foundation moves home to 628 S. Seventh St.
2005: Following restoration, home opened to public.
See more: View a short video tour of the Iles House.
*Fever River Research, in its 2003 Aristocracy Hill survey, said investigations up to that point had suggested "that Charles Matheny may have erected the house (or perhaps an earlier dwelling on the same site that later incorporated into the existing residence) as early as ca. 1827. There also is evidence pointing to (the) house having been built — or at least remodeled — in 1841 by Robert Irwin."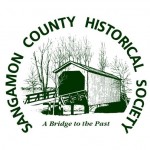 Original content copyright Sangamon County Historical Society. You are free to republish this content as long as credit is given to the Society. Learn how to support the Society.