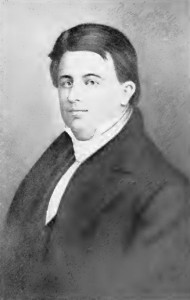 Thomas Cox (1787-1844) bought out the property of the John Kelley family to become one of the four original proprietors of Springfield in 1824. (The others were Elijah Iles, Pascal Enos and John Taylor.)
Cox previously was a prominent resident of Union County, including a term as state senator during which he helped choose Vandalia as state capital in 1819. He moved to Springfield in 1822 along with his wife and two female slaves, Nance and Dice. He was named registrar of the Springfield district of the U.S. Land Office in 1823.
However, according to Zimri Enos' recollections, Cox's construction of an expensive home and business complex, along with Cox's drinking, entangled him in a variety of financial disputes.
Cox built a mill, distillery and a hewn-log cabin with a porch, kitchen and brick chimneys, "one of the finest houses in the county," Enos said. "But the great misfortune that happened him at this time and, that finally ruined him, was that he became too great a patron of his own distillery. …. (H)e became totally incapacitated and indifferent to his business and suffered all his property to be covered with mortgages, judgments, liens and executions…."
Cox's home is identified as No. 9 on the reconstructed 1828 map of Springfield, although the other improvements are not shown. (And by 1828, the Cox family may not have been living in the home anyway, since Cox apparently lost  it in foreclosure in 1827. Mrs. Cox and her children "were turned out of house and home, stripped of nearly everything and compelled to take shelter in a little deserted log cabin a mile and half from town," Enos remembered.)
Cox was dismissed as land office registrar in 1827 for official misconduct. He moved to Missouri in 1832 and later to Iowa, "where," Enos says, "he reformed and became a leading citizen…."
Robert Howard's pamphlet, A New Eden: The Pioneer Era in Sangamon County, is more colorful about Cox's career:
"The first (Springfield) land office register, or record keeper, was Colonel Thomas Cox, who weighed 250 pounds and became a drunkard.  Courage and leadership were other qualities possessed by Cox, who in a few years commanded a posse that recaptured Bellevue, Iowa, from a gang of cutthroats.  Several were killed in that battle."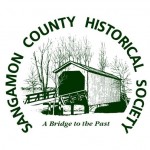 Original content copyright Sangamon County Historical Society. You are free to republish this content as long as credit is given to the Society. Learn how to support the Society.