Today's Illinois Capitol is the sixth building to have been so designated. The state rented the first, a two-story brick building in Kaskaskia, the first capital, for $4 a day. The next three capitols were in Vandalia, where the capital city was located from 1820 to 1839. (The fourth statehouse, in Vandalia, is an Illinois historic site.)
The final two buildings are in Springfield. The cornerstone for what now is the Old Capitol State Historic Site was laid in 1837, and the building was completed in 1853.
The General Assembly authorized construction of the current Capitol in 1867, on a nine-acre plot formerly known as the Mather Block, and ground was broken in March 1868. Hauling construction materials required the building of a spur railroad from the 10th Street tracks to the Capitol site. Lawmakers moved into the structure in 1876, although construction continued until 1888. Final construction cost was $4.5 million.
The Capitol was designed by the Chicago firm of Cochrane and Garnsey, with most of the work being done by Alfred Piquenard and, following Piquenard's death, by W.W. Lovington. The building has a footprint in the shape of a modified Latin cross, a classical, columned façade and mansard-style roofs on the two wings. The exterior walls are limestone quarried in Joliet and Lemont. The height to the top of the dome is 361 feet and to the peak of the flagpole 405 feet.
The original main entrance was on the second floor, up a flight of 37 granite steps. Visitors entered through what now is a balcony into the present vestibule of the governor's office. The steps were removed in 1886.
A total of 11 statues now sit on the 9-acre plot. The statues and their dates of dedication or installation are: Abraham Lincoln (1918), Gov. Richard Yates (1921), Gov. John Palmer (1923), a sundial (1940), "The Coal Miner" (1964), U.S. Sen. Everett Dirksen (1975), the Liberty Bell (1977), Rev. Martin Luther King (1988, moved 1993), Illinois Police Officers Memorial (1990), Illinois Workers Memorial (1992), Illinois Firefighter Memorial (1999). (Statues of Pierre Menard and Stephen A. Douglas were removed in 2020.) 
Hat tip: Most information for this entry was derived from an unofficial, but well-researched web site, ilstatehouse.com, created by James R. Donelan and Steven W. Dyer. Donelan and Dyer also collaborated on a companion book, The Illinois Statehouse. Much more detail about the Capitol is available at ilstatehouse.com.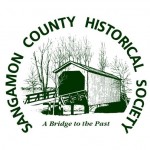 Original content copyright Sangamon County Historical Society. You are free to republish this content as long as credit is given to the Society. Learn how to support the Society.