Sangamon County was created by an act of the Illinois General Assembly on Jan. 30, 1821. It was subdivided from Madison and Bond counties and at the time was one of only 33 counties in the state (there are now 102) and so was much larger than today. The county's original boundaries were described in the History of Early Settlers in Sangamon County Illinois by John Carroll Power in 1876.
"The original metes and bounds of Sangamon county, as given, embraced the following counties and parts of counties, as at present constituted: Part of Christian, a small part of Macon, all of Logan, part of McLean, all of Tazewell, part of Woodford, part of Marshall, part of Putnam, all of Mason, all of Menard, and all of Cass."
(See Sangamon County boundary maps for intervening changes.)
County commissioners Zachariah Peter, William Drennan and Rivers Cormack established a temporary county seat near the home of John Kelley on Spring Creek on April 10, 1821, in the process also founding the city of Springfield. The county seat site is now the corner of Second and Jefferson streets.
"Towns and cities are born, live, and die, subject to the contingencies of birth, life, and death, analagous (sic) to that of human beings," Power mused, poetically, but the choice of the Kelly site was a practical one: in 1821, it  was "the only place in all the county, large as it was, where enough families could be found in the vicinity of each other to board and lodge the members of the court and those who would be likely to attend its sessions."
Puzzlingly, for the first two months of its existence, official records give the name of the new county as "Sangamo." However, Power reports, that changed with the county commissioners' meeting of June 4, 1821.
To this time the records show that the name of the county had been written Sangamo, but without any apparent reason, we find a letter added, making it Sangamon.
Springfield was confirmed as the permanent county seat in 1825,  following the legislature's decision to reduce the county's boundaries for the first time. (There were two more reductions; the county's present size dates from 1839, when Logan, Menard and Dane — later Christian — counties were created.)
The first county courthouse, a log building, was erected in late 1821 by John Kelly and others. New courthouses have been built, bought or rented six more times. County offices, courts and the jail now are housed in a square-block complex on the northeast corner of Ninth and Monroe streets.
As of the 2010 Census, Sangamon County had a population of 197,465 and took in 868 square miles. Median household income was $53,508.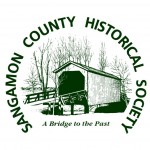 Original content copyright Sangamon County Historical Society. You are free to republish this content as long as credit is given to the Society. Learn how to support the Society.