Local researcher Richard Hart discovered evidence in early county records that the Kelly family, generally considered Springfield's earliest settlers, were accompanied by several African-American slaves.
In particular, Hart found, Henry and Mary Kelly, the parents of 1818-19 settlers Elisha and John Kelly, may have brought Jack, a 5-year-old slave, with them when they moved to their sons' settlement on Spring Creek in the fall of 1819.
"… Henry Kelly was a slave owner in Rutherford County, North Carolina, and it is probable that Henry and Mary brought at least one of their slaves with them to Springfield," Hart wrote on his blog, "Lincoln's Springfield," part of which appears in print in Early African American Population of Springfield, Illinois 1818-1861. "Evidence for this conclusion appears in March of 1822, when Henry and Mary Kelly sold 'Negro Jack' to Joseph Reavis. In 1819, Negro Jack would have been about five years old, and he was probably Springfield's first African American resident."
Hart's research also has identified several other Black residents of early Sangamon County, including:
*Six slaves belonging to Henry and Mary Kelly's two daughters, Eleanor Reavis and Sally Greenwalt, who stayed briefly in Springfield in 1820 before moving on to slavery-friendly Missouri. ("Illinois Black Laws required that slaves brought into Illinois be registered as indentured servants within thirty days," Hart reported.)
*Edward Voluntine, who, according to an 1826 document, apparently accompanied the household of Stephen Stillman when Stillman settled near Williamsville in the spring of 1820.
*And Sylvania White, a registered indentured servant attached to the household of William and Elizabeth Archer, who arrived in Curran Township in April 1820. Documents Hart unearthed show that William Archer released Sylvania White (to Scyrus White, a black man) "for value received" in 1826.
Print version: Early African American Population of Springfield, Illinois 1818-1861, by Richard Hart, part of Hart's Spring Creek Series of local history monographs; 2008. Available at Lincoln Library in Springfield.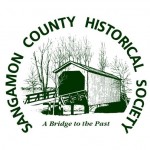 Original content copyright Sangamon County Historical Society. You are free to republish this content as long as credit is given to the Society. Learn how to support the Society.