This entry has been edited to correct Maid-Rite's apparent opening date.
Opened in the 1920s, the Maid-Rite Sandwich Shop at 118 N. Pasfield St. is thought to be the oldest sandwich shop in continuous operation in Springfield. It also claims to have the first drive-up window in the U.S. (The window originally was walk-up; customers would eat their sandwiches while standing.)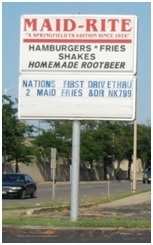 The shop was founded by Arthur Knippenberg, but, according to various newspaper stories, he gave the outlet to an old friend, Clyde Holbrook, after only a few weeks.
Maid-Rite's owners have claimed for years that the restaurant opened in 1924, but contemporary evidence strongly suggests the founding year was 1928. City directories for 1924, 1925, 1926 and 1927 show no restaurant in the 100 block of North Pasfield. Maid-Rite finally appears in the 1928 directory.
More significantly, an Illlinois State Journal advertisement published June 14, 1928, announces the opening of "the Maid-Rite Hamburg … something new at Jefferson and Pasfield."
It's possible that ownership claimed the earlier date to avoid a trade name dispute with the national Maid-Rite chain, based in Iowa, which also offers "loose meat ground beef" sandwiches. The chain was founded in 1926. However,the Springfield restaurant has never been part of the chain, and the local owners even fended off a 1990s' attempt by the Iowa chain to open a franchise here.
Keith Sculle, co-author of Fast Food: Roadside Restaurants in the Automobile Age, has written that Springfield's Maid-Rite is "a rare architectural survivor and a significant landmark."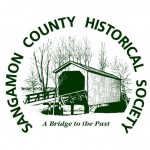 More information: National Register application, on file in the Sangamon Valley Collection at Lincoln Library.
Hat tips: To SangamonLink contributor William Cellini Jr. and commenter Kerstin Brown (see below) for drawing our attention to previous errors in this entry. 
Original content copyright Sangamon County Historical Society. You are free to republish this content as long as credit is given to the Society. Learn how to support the Society.