Guy Mathis (1866-1932) was a ground-breaking photographer and automobile entrepreneur in Springfield.

Mathis is best remembered today for his photography.  In addition to opening the city's first camera shop in the late 18990s, Mathis took hundreds of photos himself, with subjects ranging from news events, such as the reburial of the Lincoln family in 1901 to portraits of Springfield residents, businesses and homes.  The Abraham Lincoln Presidential Library's Guy Mathis collection includes 1,700 images, covering the years from about 1899 to 1905.
Mathis' carefully composed and lavishly detailed images provide revealing looks at turn-of-the-20th-century Springfield.
Mathis also was Springfield's first authorized automobile dealer — at first, exclusively Cadillacs (a single-seater cost $750). Later, Mathis and a partner, W.S. Van Duyne, owned the local franchise to sell several other auto models, all now extinct, including the Overland, Cole, Detroiter, and the Ohio and Columbus electrics.
A 1913 promotional article in the Daily Illinois State Register credited Mathis and Van Duyne with creating Illinois' first dealership service department.
"It is probably the only automobile agency in the state that conducts a garage for the exclusive use of its patrons," the newspaper wrote. "… This is a great convenience, as the loss of the use of a car one day draws on the patience of the man who has been used to driving one."
At various times in his career, Mathis also sold china, real estate, musical instruments and record players.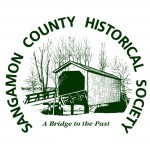 Original content copyright Sangamon County Historical Society. You are free to republish this content as long as credit is given to the Society. Learn how to support the Society.