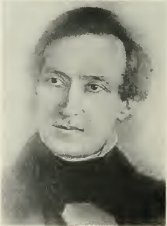 John Todd Stuart (1807-85) was Abraham Lincoln's mentor and first law partner. He served three terms in both the Illinois General Assembly and U.S. Congress.
Stuart, who arrived in Springfield from Kentucky in 1828, described the community as he found it in a speech in 1877 to a reunion of the Old Settlers of Sangamon County. The speech was printed in Interstate Publishing's History of Sangamon County, Illinois (1881).
Much of the value of Stuart's recollection lies in the specific locations he gives for the businesses and residences that then lined the tiny village's few streets. But his capsule description of the people he met is perceptive as well.
The town of Springfield then had not exceeding five hundred inhabitants, and they were from every section and State in the Union, generally young people, except where the father or grandfather had come out with some younger branch of his family. They were, as a rule, poor, and had moved West to better their fortunes.

It required some courage and nerve then to emigrate to the West, and therefore they were generally energetic and enterprising. They were persons who had come from good families East; had seen good society, and were as well educated, cultivated and refined as were the inhabitants of towns of the same size East or West.

All had traveled more or less to reach Illinois, and some had come from the remote States. This gave them an advantage over citizens of the old States, in the knowledge of men and things which travel brings along with it.

All were on equality, the only distinction arising from superior intelligence or better moral character. This equality rendered them social, hospitable and kind to each other, and ready to receive strangers with open arms. Their social intercourse was free from forms and restraint, which wealth and more extended social circles bring along with them. They met together on the street, in the offices, or around the family circle, and were happy in their intercourse with each other.
More information on John Todd Stuart: See Stuart Elementary School.

Original content copyright Sangamon County Historical Society. You are free to republish this content as long as credit is given to the Society.