Abraham and Mary Lincoln were married in the dining room of Elizabeth Todd Edwards (1816-88), Mary's sister, and her husband, Ninian Wirt Edwards (1809-99), in the 500 block of South Second Street in Springfield on Nov. 4, 1842. Mary Lincoln died in the home on July 16, 1882.
The Edwards home was built in 1836. Episcopalian Bishop Rev. George Seymour bought the home in 1884 and converted it to St. Agatha School, a day and boarding school for girls. St. Agatha's closed in 1905.
The home was demolished in 1918 to make way for state government's Centennial Building (later renamed the Howlett Building), and the northwest corner of the Howlett Building now occupies much of what was the Edwards home's footprint.  (Part of the Capitol can be seen in the background of the photo above).  By 1918,  officials felt the home already had been so extensively remodeled that it had lost most of its historic significance.
"The building has undergone much remodeling since that (the Lincolns') time, according to persons conversant with its history," the Springfield News-Record reported, "and there has been some dispute as to whether the room remains in which the wedding took place. That fact and the impracticality of moving the massive old building caused the abandonment of plans to preserve it as a relic."
A reconstruction of the house — a "less than accurate" one, according to Fever River Research's report on the Aristocracy Hill neighborhood — was later built on the southeast corner of Eighth Street and Capitol Avenue. It is now the Conference Center of the Lincoln Home National Historic Site.
More information:  Folder on homes along South Second Street, Sangamon Valley Collection, Lincoln Library.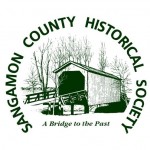 Original content copyright Sangamon County Historical Society. You are free to republish this content as long as credit is given to the Society. Learn how to support the Society.