The Pillsbury baking products company opened a flour mill east of 11th Street at about Philips Avenue in 1930. The company added facilities for mixed prepared foods and bakery mixes in 1950, and the complex employed 1,500 people by 1955.
The plant began with capacity to produce 2,000 barrels of cake flour a day, but Pillsbury officials already had plans to double its size and output within five years. Although the company imported about 40 experienced millers to operate the plant, most of its 300 initial workers came from Springfield.
"Officials in Minneapolis have visions of this being the hub-plant of the entire organization, because of the ideal location as regards transportation," the Illinois State Journal reported.
A $1 million plant expansion, formally opened in July 1949, allowed the Springfield operation to produce donut and cake mixes for institutions like hotels and restaurants.
That expansion made the Springfield facility "one of the most modern of its kind in the world," The State Journal-Register's John Reynolds reported in 2011. "Flour was transferred pneumatically from the mills to the plant and stored in bins. Sugar was brought in on special railroad cars, then carried pneumatically to its own storage bins, where it was held until needed.
"The plant's products included pre-mixed ingredients for making cakes, pancakes, biscuits, muffins, pie crusts, gingerbread and other baked goods."
Pillsbury reduced employment in Springfield through the 1970s and '80s and finally sold the plant to Cargill Inc. in 1991. Cargill closed the facility in 2001.
Ley Properties Management purchased the former Pillsbury complex — 20 buildings and warehouses and 30 grain silos — in 2008 and began a salvage operation. The site was sold again about six years later to a partnership, P Mills LLC, owned by Joseph Chernis III and his son, Joseph IV, and Kenneth Crain of Sherman.
P Mills began demolition, but the Illinois Environmental Protection Agency accused the partners of improper asbestos removal. As of early 2017, Joseph Chernis IV faced federal charges connected to the removal. Meanwhile, the U.S. EPA announced it was stepping in to eliminate the asbestos, a project estimated to cost $1.8 million.
Unless removed, a U.S. EPA spokesman said, the asbestos posed a danger to the neighborhood, and no other entity appeared ready to take on the work.
"There's asbestos on the floor, asbestos on pipes and asbestos in bags," a spokesman told The State Journal-Register.
More information and photos: Springfield Business: A Pictorial History, Edward Russo, Melinda Garvert and Curtis Mann, 1998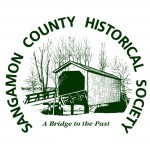 Original content copyright Sangamon County Historical Society. You are free to republish this content as long as credit is given to the Society.