The Historic Sites Commission of Springfield has designated 66 buildings as having local historic significance. The commission's primary goal is to increase awareness of the need for historic preservation, although designation as a historic site can also be helpful in obtaining economic incentives to preserve or rehabilitate a building.
The commission's inventory includes a number of sites significant in Springfield's Lincoln history, and therefore protected by state or federal authorities. However, designation as a city historic site carries no automatic protection against alteration or demolition.
More information: For a discussion of the issues and some of the controversies surrounding historic preservation in Springfield, as well as more on the Springfield Historic Sites Commission, see Historic Preservation Association of Springfield.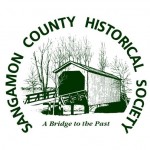 Original content copyright Sangamon County Historical Society. You are free to republish this content as long as credit is given to the Society. Learn how to support the Society.