Historic U.S. Route 66, which ran from Chicago to California beginning in the 1920s, went through Sangamon County.
Traveling north to south, Route 66 entered the county near Williamsville and traveled through Sherman to Springfield. The highway then took two different routes, one from 1926 to 1930 and the other from 1930 to 1977.
The earlier route led to Chatham, Auburn, Thayer and Virden before exiting the county. The later one ran through an area now submerged by Lake Springfield and then to Glenarm and Divernon.
The Route 66 Association of Illinois has identified 14 Route 66 attractions in Sangamon County (zoom in on map to see sites). Springfield also sponsors the annual International Route 66 Mother Road Festival.
Three small sections of Route 66 in the county – one near Carpenter Park south of Sherman; one between Lake Springfield  and the New City Road; and a brick-surfaced section north of Auburn – are listed on the National Register of Historic Places.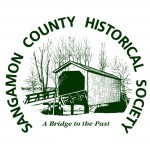 Original content copyright Sangamon County Historical Society. You are free to republish this content as long as credit is given to the Society. Learn how to support the Society.