Editor's note to readers: We regularly receive technical questions about old Sangamo Electric meters — they obviously were so well made that they practically last forever. Luckily, two readers have responded to some of those questions. (See comments below.) We greatly appreciate their help. 
The Sangamo Electric Co. manufactured  electrical meters, time switches and sonar and radio equipment, among other items, in Springfield from the 1890s until 1978.
Sangamo was an offshoot of the Illinois Watch Co., and its Springfield facility generally was the watch company's former factory, which took up four square blocks between Ninth and 11th streets and North Grand and Converse avenues. Sangamo rented space in the watch factory for about two decades, but with the watch business declining and Sangamo growing, Sangamo eventually purchased the entire plant.
Sangamo was incorporated as a separate firm in 1899, after several years as an Illinois Watch subsidiary. Incorporators were Jacob Bunn Jr., watch company vice president, Bunn's brother Henry, and Ludwig Gutmann, who owned a patent for an alternating-current electric watt meter.  The other key figure was a young engineer, Robert C. Lanphier (1878-1939), who helped convert Gutmann's concept into a practical meter.
"The Sangamo Electric Company started with a dinner hour conversation Mr. Lanphier had with Jacob Bunn (Jr.), head of the Illinois Watch Factory, in 1897," according to Lanphier's obituary in the New York Times on Jan. 30, 1939. "His interest aroused by the story of the invention of an electric meter, Mr. Lanphier … plunged into research into the meter invention."
Gutmann sold his interest in 1905, after a court injunction limited Sangamo's ability to produce his meter. Meanwhile, however, Lanphier had created a direct-current meter, and  Sangamo began producing ampere hour meters for use in automobiles (a step that, incidentally, led to Lanphier meeting Thomas Edison). When Jacob Bunn died in 1926, Lanphier replaced him as Sangamo president; he remained active in the company until his death.
Sangamo produced anti-submarine sonar  and mica and paper capacitors, as well as watt-hour meters, during World War II, and the company's employment jumped — from 1,200 locally in 1929 to more than 3,000 in 1943. Charles "Chick" Lanphier (1909-78), Robert's son, took a lead role in the sonar business and himself later became Sangamo's president and CEO.
"Chick became known in Washington as 'Mr. Sonar,' as he led this country's development of shipboard sonar for the U.S. Navy," a nephew, Robert Lanphier III, was quoted in a 2008 State Journal-Register article. "There was nothing at Sangamo of which he was not aware, and in which he did not take a keen interest."
Sangamo continued to expand after the war. Locally, its major acquisition was Capitol Aviation, a Springfield aviation sales and service firm, but Sangamo also acquired a number of electronic component manufacturers elsewhere.
Company sales amounted to $68 million in 1966, and total employment (not just in Springfield) totaled 4,800. As of 1970, in addition to the Springfield factory,  the firm had two plants in South Carolina, one each in Massachusetts and Mississippi, two in Canada, three in England, and one in Scotland.
French oil and gas conglomerate Schlumberger, intending to diversify, purchased Sangamo Electric in 1975. In 1978, however, Schlumberger moved meter production to Georgia and Florida from Springfield, and the local plant was closed. The site now houses the offices of the Illinois Environmental Protection Agency.
More information: See the Abraham Lincoln Presidential Library's digest of Sangamo Electric records for more on the company, especially its acquisitions and expansions. Sangamo: A History of 50 Years, a privately published two-part booklet written by Robert Lanphier and Benjamin Thomas, discusses the founding of the company in detail, development of many of its products, and its associations with suppliers, distributors and customers as of 1949.
A great deal more information is in the comments section below. See especially the comment by Richard Altig, who worked for Sangamo for more than 30 years.
To find the age of a Sangamo meter: Go to SangamonLink's subsidiary entry, Sangamo Electric meter chronology. Thanks very much to reader Dan Cothern for this  useful information.
We're also very grateful to reader Dave Dahle for his individual responses (see comments) to many of those who have emailed SangamonLink with questions. Go to a second subsidiary entry, Sangamo/Schlumberger Watthour Meter Serial Log for additional information from him.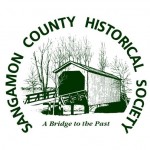 Original content copyright Sangamon County Historical Society. You are free to republish this content as long as credit is given to the Society.