Operating under a variety of names, Hummer Manufacturing Co. (originally Sattley Manufacturing Co.) was one of Springfield's most important industries for more than 70 years.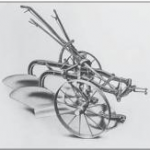 The firm originated in 1851 as a small farm-machinery manufacturer operated in the Rochester area by brothers Archibald (1837-1901) and Marshall (1831-1907) Sattley. Sattley Manufacturing was formally established in Taylorville in 1858 and remained there until the brothers relocated to Springfield about 1888.
The new Sattley plant covered a four-square-block, seven-acre site on the southeast corner of Ninth Street and South Grand  Avenue.
Sattley merged with the Racine Wagon & Carriage Co. of Racine, Wis., in 1903 and took the name of Racine-Sattley Manufacturing. Products included the Wonder Gang Plow (above, about 1915).
Racine-Sattley was purchased in 1916 by Montgomery Ward & Co. and renamed the Hummer Plow Works (at the time, the Hummer was the plant's best-known plow model).  The plant had 500 employees in 1912.
Hummer products included horse-drawn tillage tools, washing machines, coaster wagons, kids bikes, folding camp beds, windmills, poultry equipment, air compressors, bottle cappers, gas engines, cream separators, water supply systems and hammer mills. Tillage tool production ceased about 1931.
Hummer's last products included water systems, power takeoffs, trailer running gears, hammer mills and pump jacks. The plant closed in 1958.
See also: Illinois Agricultural Works.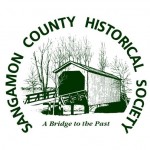 Original content copyright Sangamon County Historical Society. You are free to republish this content as long as credit is given to the Society. Learn how to support the Society.