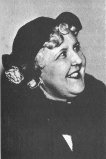 Hettie Bunker Smith (1896-1989), an art teacher and housewife, began making artificial facial features for disfigured people in 1934, when a friend asked her for help covering a facial scar.
Eventually, she received a presidential citation for her volunteer work creating prosthetics for more than 200 World War II veterans (she often traveled several times a week to Camp Atterbury, Ind., to meet wounded soldiers). She also provided prosthetic features to hundreds of civilians over the years and gave demonstrations of her homegrown techniques at the Mayo Clinic, hospitals and other medical facilities. She was recognized by her alma mater, Illinois State University, with an honorary doctorate in 1973.
Smith, who lived on a farm on Old Rochester Road, used her art background to come up with processes to mold plastic ears, noses and other features.
In a 1947 article, the Illinois State Register described her approach. Guided by photos "or at times only by her own imagination, she fashions moulds made of equal parts of beeswax and paraffin over which the plastic is shaped," the paper said.  "… When completed, the parts are attached by mastic gum and alcohol. Patients may remove them by applications of alcohol and put them on and take them off at will."
Smith's toughest challenge was matching the patient's skin coloring. An ear, for instance, can have five to seven shades, tints that change with a person's age and the season of the year, she said.
Smith blended cocoa and vegetable-dye cake coloring to achieve the right skin tones, "a problem that has stumped many technical experts who never thought of turning to such common materials," the newspaper reported. She also provided patients with duplicate parts, so they could change out the features to match skin tones "from winter pallor to summer tan."
Smith distinguished herself in other fields too. She was principal of Springfield's Sunshine School, a school for children with respiratory diseases, during its entire existence from about 1926 to 1941. When it became obvious that many students were malnourished, Smith and her mother initiated an early version of a school breakfast program: Smith's mother "brought a large pot of oatmeal in a cab several  times a week, and the school board supplied the milk twice daily," Melinda Fish Kwedar wrote in Unsung Heroines: A Salute to Springfield Women.
Smith also served as president of organizations representing both Springfield teachers and retired teachers, headed the Zonta Club and was named Springfield's Outstanding Career Woman of 1957. At her death in 1989, she left money to ISU to fund the Hettie Bunker Smith Presidential Scholarship.
Smith, who grew up in Chatham, is buried in Chatham Community Cemetery. Her State Journal-Register obituary mentioned her teaching career and civic involvement, but said nothing about her groundbreaking role in helping the disfigured.
 More information: Tara McClellan McAndrew profiled Smith for Illinois Times in 2008, as did Melinda Fish Kwedar in Unsung Heroines: A Salute to Springfield Women: Sangamon County Historical Society, 1977 (out of print).
Newsaper articles about Smith are available in the Sangamon Valley Collection at Lincoln Library (filed under "Mrs. Sidney Smith").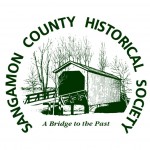 Original content copyright Sangamon County Historical Society. You are free to republish this content as long as credit is given to the Society. Learn how to support the Society.